The wife and I just love dove season. I shoot'um and she retrieves them (a lot of them anyway!)and we both love to eat them. Our favorite way is to put an onion in the breast and wrap with what else but bacon. We've used jalapenos, apples, other pepper types, persimmons and I'm sure other things I'm forgetting that helps to add flavor and keep it moist.
In case you haven't had dove, they almost have 2 kinds of meat in the breast. "White" meat nearest the breast bone and "dark" meat finishing off the outer layer of the breast. Sort of neat and adds variety in each breast.
Up to now I've always just wrapped, seasoned and grilled on my Weber kettle but wanted to try smoking this time. So I marinated overnight in coke, garlic powder and red pepper. The 2nd bag collapsed while I was filling it and fell over with the coke in it so had to clean up all my counters and floors and add more coke.
Next day I put them on about 1 and they were ready at about 6. Delicious! The meat was a bit denser (not as much difference between texture of inside and outside meats) but much juicier smoking than grilling. Everyone enjoyed them, and I hope you do too.
Here are some pictures:
A bunch of fun helped to make this bag of birds!
Two layers into the ECB
The finished product!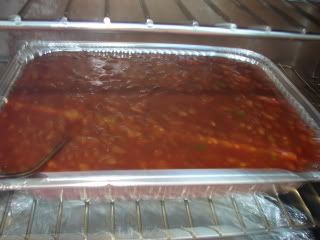 Had to try some of Dutch's beans too. Since the ECB was full, I had to go the oven route. Still, they were great!