We have this awesome "supper" from time to time. Italian tortellini w/ meat sauce...some sausage. cooked all day in the slow cooker. let me share a "stew view" with ya first.......
shrooms, cheese, tortellini, bits of sausage, sauce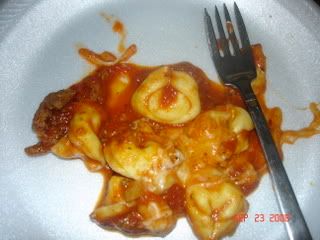 cheese filled tortellini......
I think I am going to roll some fatties with this here goodie. Its already in the freezer for this weekend. I think the coagulation should help me roll it, once it defrosts a bit. Question: roll it in sausage or burger or? Any suggestions please. If'in it works out this weekend I shall qview fo sho!