Basic White Bread In the Dutch Oven
You need a three legged 12 inch Camp oven and
Ingredients:
12 oz of water
4 teaspoons sugar
1 1/2 teaspoon salt
3 Tablespoons melted butter or olive oil
1/4 cup of mashed potato flakes (smoothes out the bread and adds wonderful flavour do not omit this ingredient )
1/4 cup of powdered milk
1 pound 5 ounces of Bread flour
2 teaspoons of yeast.
Method
Mix all together, let rise 3 times 25-30 minutes each time. Bake in Dutch oven for however long it takes.
When top is browned brush it lightly with olive oil to give it that appealing shiny brown hue.
Starting Out.
I started with a plain white bread recipe hand made on the countertop instead of with the Kitchen Aid mixer that I usually use to make bread. I wanted to see if I could really make bread without any technology at all.
This is my White bread dough on a plate its just starting on its third 25 minute rise.
Placed the dough in the 12 inch Dutch oven . Then I put the lid on to keep the dough moist and warm for the 25 minutes of the last rise
http://i34.photobucket.com/albums/d132/GnuBeeFlyer/HPIM1243.jpg
I took out the plate set dough in the bottom of a lightly oiled 12 inch Dutch Oven. You need the type of Dutch oven that has three short legs on the bottom. A 10 inch oven. And a 12 inch Oven.
18 briquettes will be ready to go in 8 minutes , using the stacker you only need a piece of paper and a match to start the briquettes. This ensures no petroleum smell to the food. I use my old Red charcoal barbeque for holding the coals and Dutch oven to keep the wind away. (it was quite windy that day ) When the dough is ready and the coals are in place and hot. I set the whole works into the red BBQ. On a windless day you can just set the coals directly on the ground with the Dutch oven over top of them.
The six coals you see in the center of this next picture are for under the Cast Iron Dutch oven. The rest of the coals you see around the outside are for placing on top of the lid.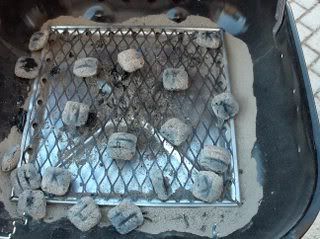 Place the remaining 12 briquettes evenly spaced around the top of the lid.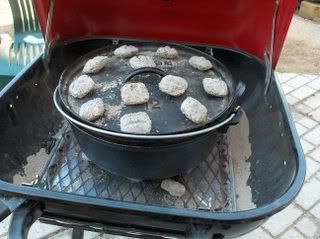 It started to char in the center of the loaf before it was done so I placed the top coals around the rim away from the center which seemed to work because the finished bread did not burn on the top.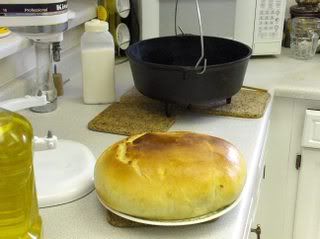 That is a 12 inch dinner plate the bread is sitting on, the loaf is quite large.
It tasted wonderful with a little butter and homemade plum jam.