I put some halved country style ribs on this morning, but in my rush I forgot to get before pics of them(not used to an audience), light sprinkle of garlic salt and marjoram as the "rub".
TBS?
I didn't know it, but this was too much wood, hehe. I had to pull out two of them and put them in the "extra" water pan. the skillet is also covered in aluminum foil as of now. there is also some left over royal oak tossed in there to help with smoke production (it was leftover from my sons 1st birthday party, we did a picnic at the park where they use charcoal grills)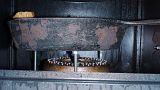 just a shot of burner height gap. thats my $0.25 cast iron skillet!
when I open to flip I'll get a photo for you! since they are halves, I generally do a 2-2-1 on the grill. I do halves since I like it to be "portion sizes" that way its end bark for all. not feeding anyone other than Me today, but cooking enough for 2-3 people for the extra practice. I can see if I get into this, I will need more rack space.... may have to be a propane offset in my future if this bug sticks, and it looks like it might. (yes yes, charcoal, wood, I know I know...)