Well, I think I'm starting to discover and learn about things I COULD'VE done. But some feedback would be great.
This time, since I was already attempting the belly bacon, I thought, why not cure a small piece of pork loin and make some canadian bacon?
So here is the story of a lil' 1.8 pound pork loin: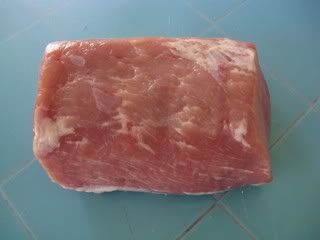 He wants some spices! 2Tbs sea salt, 1 tsp Instacure#1, 2Tbs dextrose, 2 Tbs brown sugar, f1 Tbs each fresh pepper, garlic powder, thyme: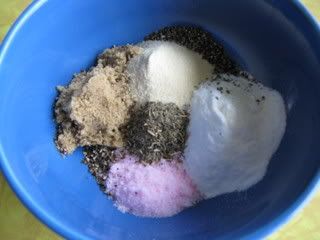 He got the rub down AND injected with the same rub mixed with water:
My intention was a 3 day cure, with a daily flip but it turned into 9 days. A lot of juice was released. A thorough rinse and dry, in front of a fan for over an hour, and 6 hours at 200* with mesquite lump and hickory chunks alongside the belly bacon: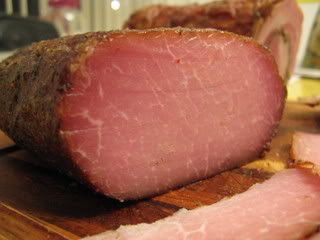 This lil' bad boy is tasty. But if it looks dry, it's because it is. I would personally like it moister. So here is my analysis. I would appreciate any feedback if you think my analysis is true / false / depends. Also, any tips/advice would be great. Thanks for reading!
1. Canadian bacon should be cured in wet brine for a juicier result. (T/F)
2. If I do a dry rub & hot smoke like I did, I shouldn't use the Instacure and just treat it as a fresh smoked pork loin and not canadian bacon. (T/F)
3. If I wanted canadian bacon, I should have cold smoked it for flavor. No need to cook it cuz it was cured. (T/F)
4. Nine days was too long for a small piece of meat like that, considering it was injected with curing solution. (T/F). If true, how many days would you recommend?
Thanks folks. I was almost too embarassed by this experiment to show and tell but I figured no one here judges. And we all love pictures!