Hi folks. So I joined and introduced myself when I got a new Charbroil "American Gourmet" offset smoker a week ago. This was my first attempt at using it and my first time making bacon. So with so many firsts, there were many variables. One thing I learned from this site is to take notes so that I did.
Here is the pork belly. About 3.5 - 4 pounds: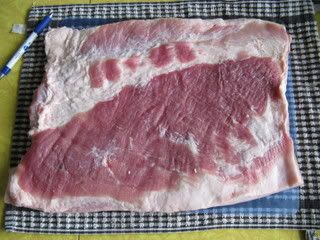 Belly all rubbed down:
Belly after 9 days of curing:
Bacon smoked with skin on. 6 hours at 200 until 150 internal. Mesquite lump with hickory chunks: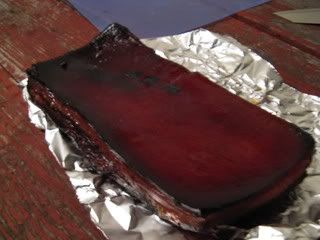 Took the rind off and let it smoke for another half hour to develop some color: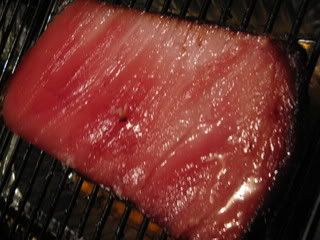 Slices off the slab after sitting in the fridge overnight: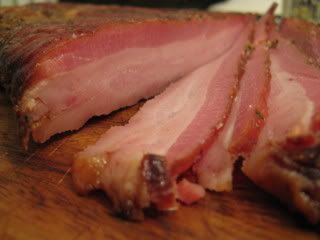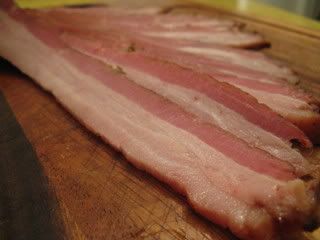 Into the oven at 300: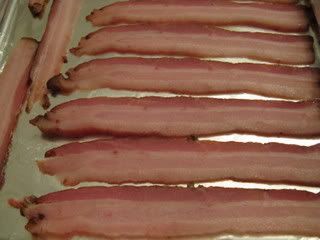 And ladies and gentlemen, we have bacon: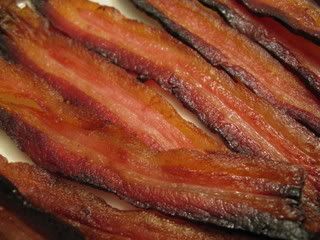 So how was it? I regret to say that I am a little disappointed. The flavor is good but the texture isn't to my liking. The strands of meat are tougher than I'd like (almost stringy!) and the strips of fat are softer than I'd like. What could cause this?
Because of space limitations in the fridge, I had to stack the slabs as they cured and there was more weight on them than I probably should have used. Maybe 7 or 8 pounds. Does anyone else weight their bacon as it cures?
Or maybe I used too much pink salt? Or maybe it's just the belly I got. The top portion of the bacon developed a nice smoke but it pretty much turns black by the time the bacon gets crispy.
Any tips or hints? Thanks for watching.