At Pineywood's house this weekend, Seboke gave both of us a hands-on tutorial on making abts. After seeing how easy it was to make the filler I realized it was time to quit dragging my feet on making these tasty treats!
If anything I learned from the prep at Jerry's house, it was to wear gloves when handling the japs
.
My first batch of abt's were filled with the following:
1 - 8oz. pkg of cream cheese
1/4 cup of sour cream
1/2 green pepper - diced
3 cloves of garlic - diced
6 strips of cooked bacon - crumbled
These babies were topped with a slice of thick sliced bacon and off to the smoker for an oak-smoked infusion of flavor. Left them on there until the bacon was crisp and pulled them off. Not only did these suckers smell good, they tasted really good!! I've got to run out and get more japs as I've got plenty of filler left. I think the co-workers will like these ...
.
Here's the qvue:
Filler ingredients (minus the green pepper)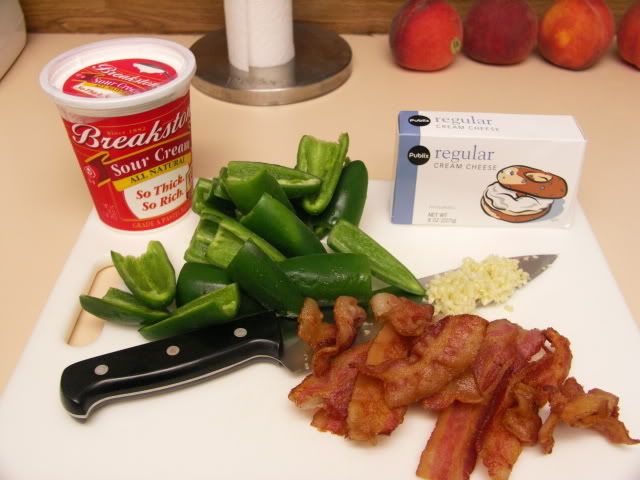 Mixed up filler

Stuffed and on the smoker

Tasty finished results