Between deltadude posting about this and some info from a friend that has one of those wood fired pizza ovens, I had to give this a try. I thought about buying one of the kits for cooking pizza on a grill (
http://2stonepizzagrill.com/
) or making something out of a steel drum or something.
In any event, I knew I would need a stone of some kind, so I headed down to the local tile shop and got a 18" travertine tile as a sample.
After a few days mulling it over, I figured I would try to use cast iron pot lids for the top side of the oven.
Used an overnight rise method a friend of mine uses and had enough dough to do 8 little pizzas. Invited the neighbors over for experiment time.
Got a big travertine tile sample and set the grill up. Pot lid is from my big whopping cast iron dutch oven.
I set the tile on one side of the grill with the pot lid on the other. Grill is cranked up to full 120,000 BTU. I put a thermometer on this grill and it wrapped around the max dial of 550. Not sure how hot it is, but I'm guessing at least 700 degrees. This pic is after we did a couple already and the neighbor is taking over for a couple while I take pics.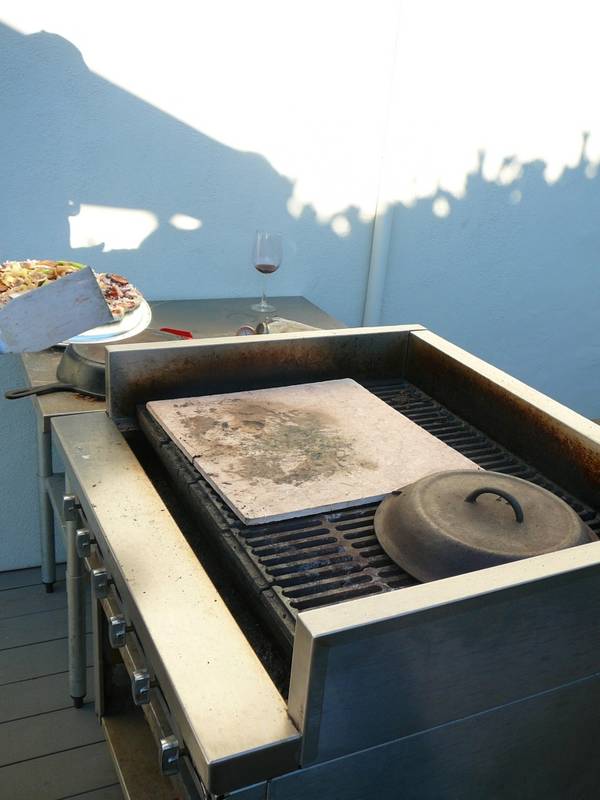 Don't have a fancy pizza peel so I got some el cheapo pizza pans at the dollar store. We put a bunch of cornmeal on the back of the pans and built the pizzas on them. Here is the neighbor loading another one on the "stone."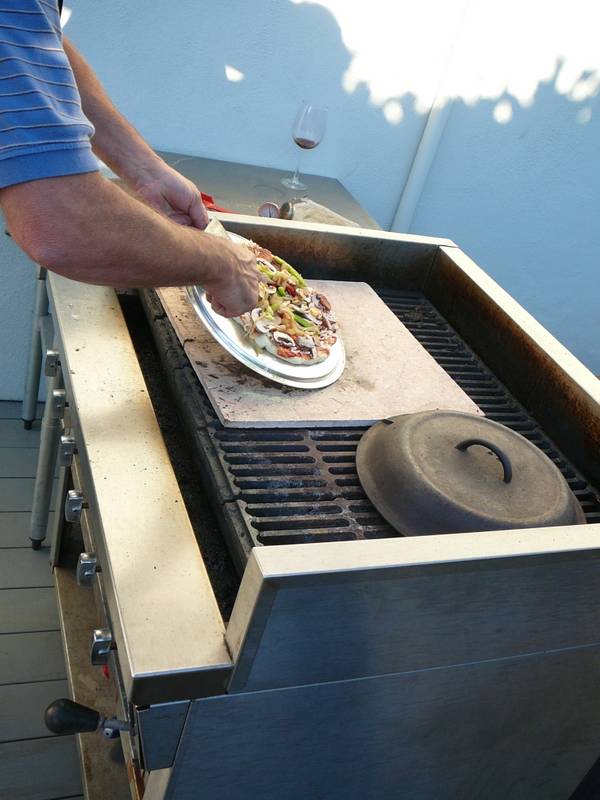 After we loaded the pizzas onto the stone tile, we slapped the prehated pot lid over the pizza to get heat onto it from above and below.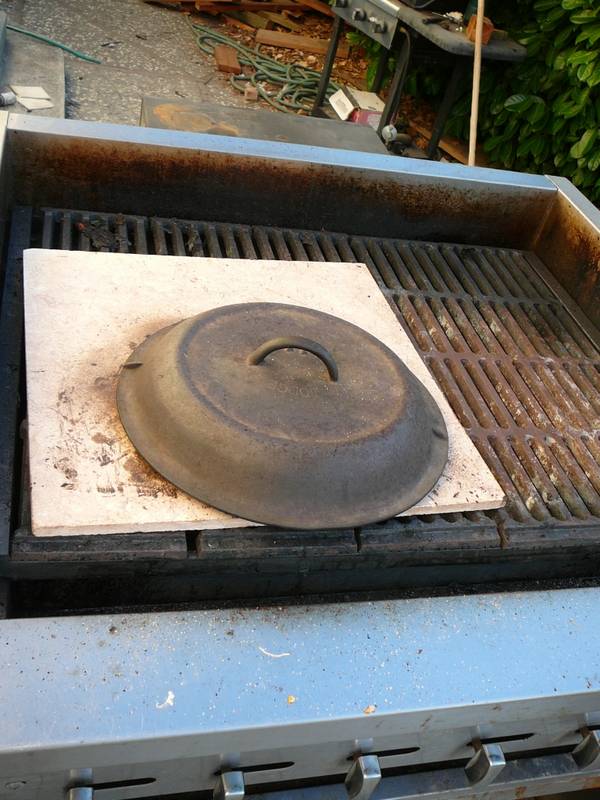 The crusts were cooking faster than the tops, so we added a finishing stage on the counter with a preheated cast iron skillet over the top to try to finish cooking the tops.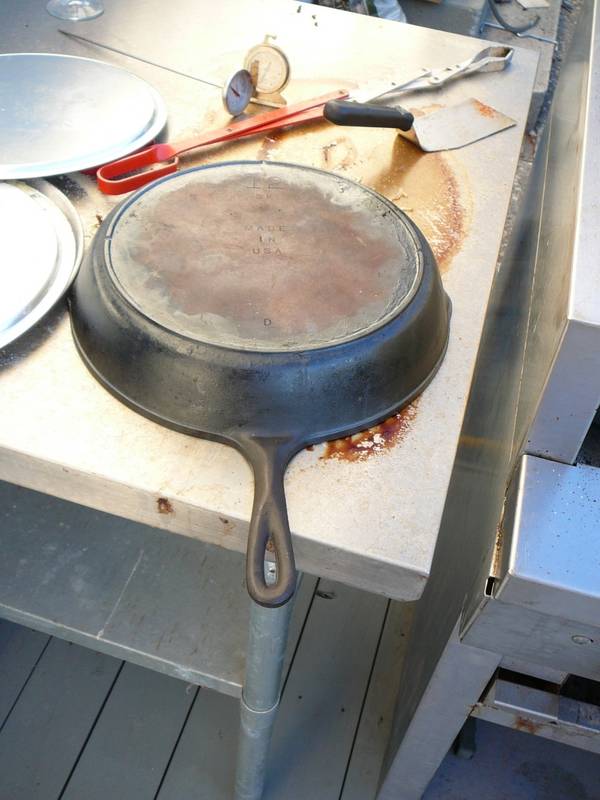 One of the finished products....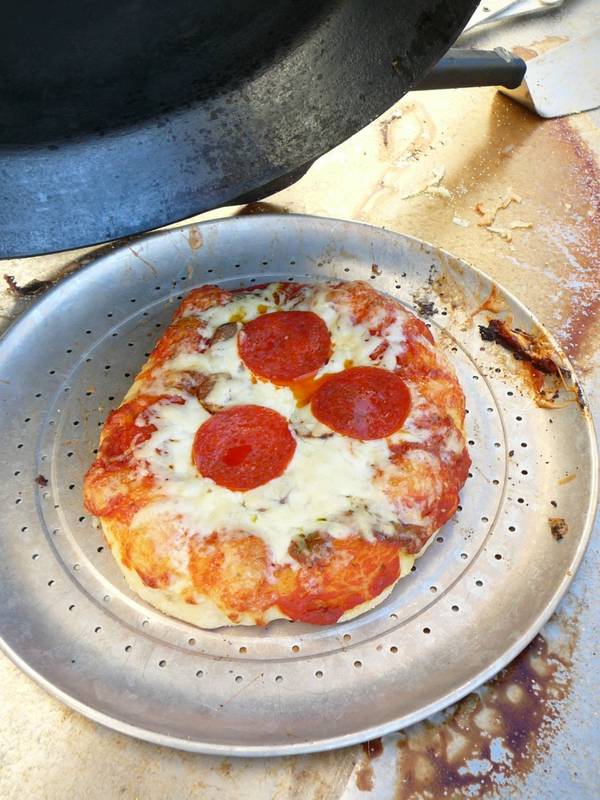 And finally, the neighbor with the next round on the grill.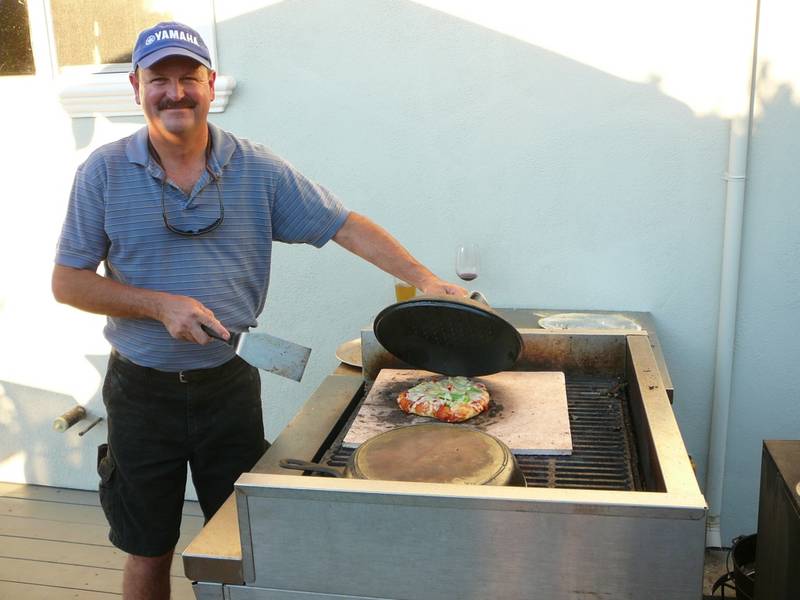 Some of the best pizza I have had and didn't heat up the house. The cooking process worked well. Figured out a little bit about how we should form the pizzas and what toppings work and which ones don't. Will be better next time.