Good sides to compliment Smoked ham?
offline
60 Posts. Joined 8/2008
Points: 10
Nothing to crazy. But tastey.
I Love Smokin' Anything

offline
5,433 Posts. Joined 4/2008
Location: Utah and in the hearts of SMF friends
Points: 21
Try saclloped potatoes, smoked under the ham, yum.
offline
1,024 Posts. Joined 4/2007
Location: Hell, Michigan
Points: 10
au gratin potatoes
scalloped potatoes
pinto beans
baked beans
green beans
cole slaw
cuke salad
veg medley
corn casserole
corn bread
corn
bread stuffing

That should get ya started!
offline
629 Posts. Joined 5/2008
Location: rocky mount, virginia
Points: 10
I always like a nice gooda mac n cheese, you can bake in oven and gooda already has a wonderful smokey taste.
The Mad Hunky!

offline
10,684 Posts. Joined 8/2007
Location: N. Oakland County, MI
Points: 14
Greens an' beans is one of my faves. And a potato of some sort. The scalloped go well, but typically I MAKE those with the leftover ham. Works either way I guess!
offline
60 Posts. Joined 8/2008
Points: 10
offline
179 Posts. Joined 9/2007
Location: NYC
Points: 11
Beer - Cold, Dark, Domestic. Maybe a microbrew
offline
359 Posts. Joined 11/2007
Location: Williamsville Ny
Points: 12
I love fettucine alfredo with my ham and boston baked beans. Always make all three
offline
26 Posts. Joined 7/2008
Location: Atlanta
Points: 10
Three must haves with a smoked ham: Baked beans, old fashioned macaroni and cheese, and corn bread.
offline
2,675 Posts. Joined 2/2008
Location: cental minnesota
Points: 28
got to be scalloped potatos, i take a box or couple boxes of scalloped potatos like bet croc or whatever, pick a flavor u like or mix n match. prepare the ingreds just like on box bringing the stuf to boil, add the spuds, put in alum foil pan and throw in a couple handfuls of your favorite cheese to go over top and off to the smoker, if i was smokin a ham i wud do like ron says and put the pan under the ham to catch some flavorful drippings. make extras because leftover ham can be added directly to them. of course you could do the scalloped from scratch but you would need to be sure you put in with enuff time to go so the raw potatos be fully cooked. the box scalloped are pretty good and its a quick side, and adding the extra cheese on top and smokin makes them even better. oh yes chop some onion and add also!!!
heres a pic i happened to have from an earlier post
expierimental side dish-scallopped pottatoes with mozz cheese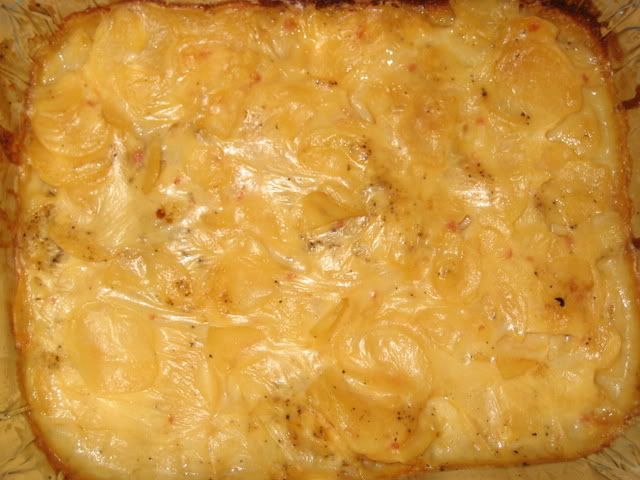 AKA: The Highway Hippy

offline
3,687 Posts. Joined 12/2007
Location: Old Pueblo AZ
Points: 12
yumm now that looks good erain!