I have to report this one to the guys with the most Pork Ribs per quare ft.
This recipe came off of another site. Rather than link it im just pasting it. It turned out to be soo good it has almost ruined smoked ribs for me. Try this. It suredly blows away any asian rib recipe ive been inclined to flavor.
Recipe courtesy of Gina in Singapore.
Ingredients
1 rack of Prime pork ribs(about 10 ribs)
1 big bunch of fresh spring onions(about 10 stalks)
1 inch young ginger, sliced thinly
50g rock sugar(crushed into smaller bits)
Marinating sauce
1 clove of garlic, chopped
1 tbsp dark soya sauce
sauce
100ml Black vinegar
50ml light soya sauce
300ml chicken stock
2 pcs star anisee
3 pcs cloves
Method
1. Slice or cut ribs from whole piece. Marinate with dark soya sauce and garlic bits for 10 mins.
2. Heat up the wok with cooking oil and deep fry the ribs over high heat for 3 mins. Drain and set aside.
3. Remove the oil and leave 2 tbsp of cooking oil on the wok.
4. Add ginger to stir fry till fragrant.
5. Then add spring onions, half-cooked ribs, rest of sauce ingredients.
6. Turn up the heat and cook till it boils.
7. Once it starts boiling, cover the wok and lower heat to medium and let it simmer for 1 hour.
8. Open the wok cover, give it a good stir and sprinkle Rock sugar on top.
9.Cover the wok again and let it cook for a further 30 mins.
10. Turn off heat, sauce should be reduced to a thick sticky sauce that sticks to the ribs.
11. Serve immediately.
Modifications I made
1. I cook another set of spring onions on the side and added that on the plate.
2. When the meat was cooked, I dish out on the spring onions.
on the side note:
If you cannot find Black Vinegar, use Balsamic Vinegar instead.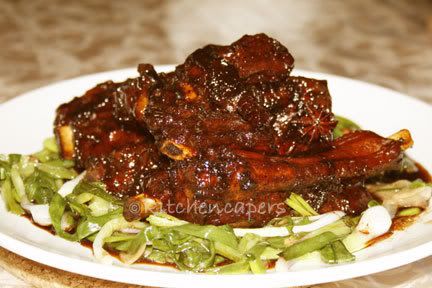 Her photo followed by mine.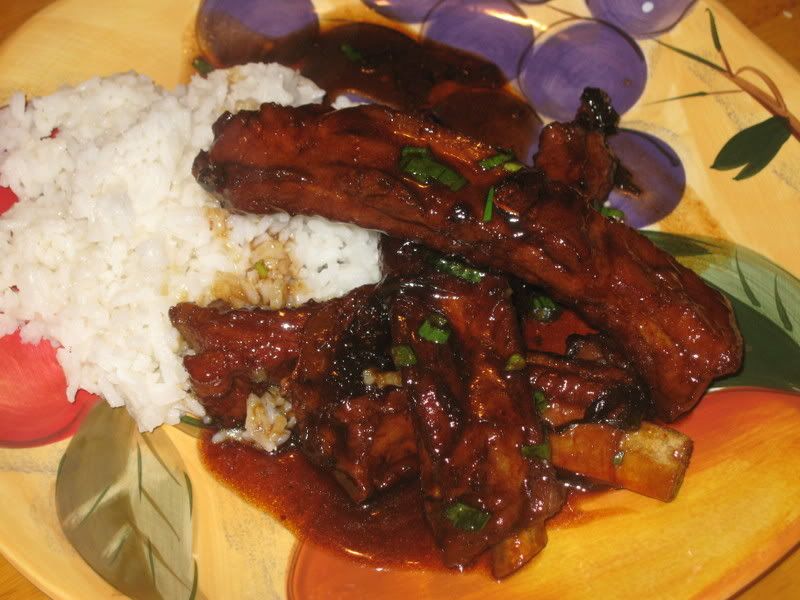 Black vinegar can be replaced in my opinion with either malt or rice wine vinegar. Balsamic is dark but its too balsamic, and if you cant find rock sugar, use karo syrup (light), rock sugar isnt pungently sweet like our granulated the finished dish is not teethe rotting sweet but very glazy.