Well I survived my first brisket. I used hickory chips and maple chunks. Started at 5:45 this morning and pulled it out to rest at 7:00 tonight. I tried to follow Jeff's all-nighter method pretty closely. Good smoky flavor, but I thought it could have been a bit more tender. I had to do a quick search to get some coaching on slicing the brisket. I will attempt to share a few pictures.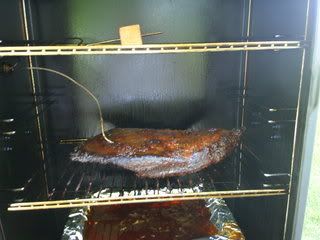 Fairly early in the smoke.
Just about ready to pull.
Sliced and ready to eat.
dmack