So I thought I'd give a go of making a load of Andouille sausage. I have made a bunch in the past on the old smoker but not with the current beast. Plus I had to payback some of the guys at work who have been cutting and welding my modifications for me. What better way than with pork products!
My latest mod was to make a hanging rack for the links. In the past I just laid them on the grate, but I read that it's better to hang 'em so no surface area is untouched by smoke. So I came up with this nifty, $10 solution:
Drilled two holes, inserted two eyebolts and cut some 3/8" rod to length. I slip it in the right side first then back it into the left. (Hits the snorkel) Looks like it will work. Here's the load of sausage after resting in the fridge to form the pellicle:
Here they are on the rack ready for smoke:
Here they are after reaching 155deg internal: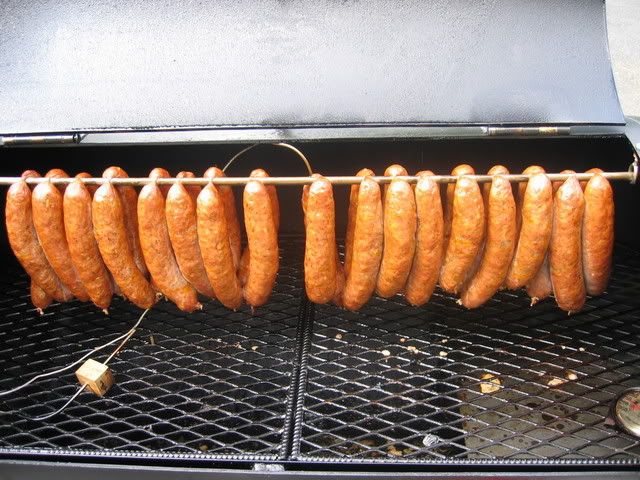 Or so I thought. I didn't have consistent results, as you can see in the pic, there are several "unsmoked" areas. I'm not sure what happened. After the water bath, I cut one open and it was a bit undercooked. So I threw them on the grill and after singing all the hair off my arms with the flare-ups, I got them to where I wanted them. I think I'm going to have to practice this some more so I don't poison anyone!