OK...
He is a pic of my old rusty smoker.
It works great and is seasoned so well, that you just walk around the corner and you can smell it, even when its not being used.
The wheels are broke, its rusty and ugly.
I am not trying to win any beauty pagents with it, so I leave it as is.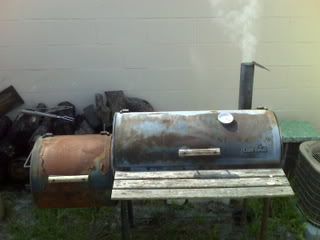 Behind it is my collection of Oak logs. I dont use chips, but I see alot of you do. I like what I make to have a super smokey flavor. I use the entire log (soaked in water overnight) for a constant smoke. I use charcoal to get the Oak started and let it just let the logs smolder down because they are wet..
I also have a propane GSM... I am not that fond of it because of the small amount of smoke I get with it. Granted, its a faster process, because of the water / steam issue, but its just not my cup of tea.
I also have a new webber kettle for the regular stuff. I am amazed at the speed that Webber can gook some food. My dad had one when I was a kid, but I guess I never knew the benefits until now..
Does anyone notice that the older you get, the smarter your parents seem?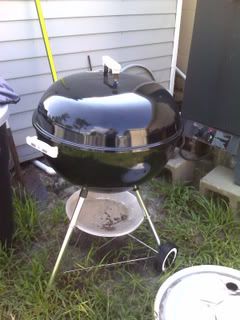 My question is, it seems like there alot of these GSM units, and alot of you use chips / shavings etc.
It seems like the only people that use logs have the big industrial strength units.
Is this just my imagination?