aprox a week and a half ago i took a couple elk roasts and trimmed them up and using curlies brown sugar cure pumped them 10% and rubbed with the cure. put in frig and rotated every day. today was the day. took from fridge and rinsed off and let set at room temp for an hour and into my new masterbuilt for its virgin smoke(at long last). i seasoned it for a couple hours last weekend. put in smoker at 130 and left at that temp til outside of roast felt dry to touch. upped the temp to 160 and using prepurnt pieces of cherry leftover from gosm's last weeks smoke and some small bits of cherry wood gave it the smoke for two hours. turned up heat to 190 and will continue to smoke til internal is 155 deg which will be ltr tonite. right now seems to be holding steady at 126 but is lookin good.
here is qview what i have so far...
cured roasts goin into the masterbuilt-first smoke for it other than the 3 hr seasoning last weekend
after 2 hours smoke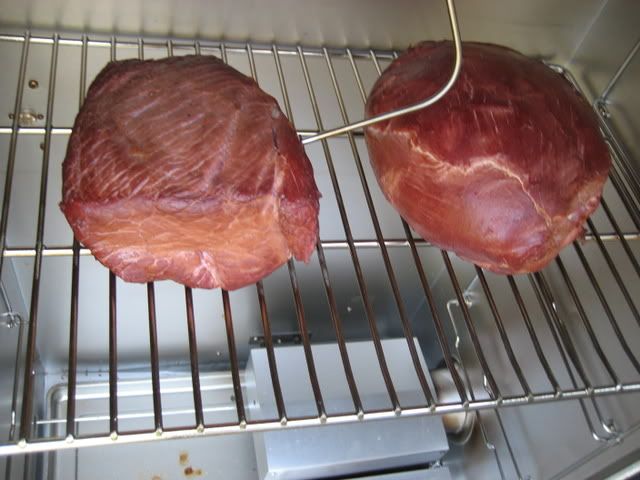 will update with part 2 when done and cooled and thinley sliced
thks for ckin out my qview!!!