After seeing some great threads on these sandwiches I remembered a post I did long before I joined smf. I wonder how I can work smoked meat into it... hmmm... For someone who is working and unable to be near a smoker all day this is a great way to make a french dip. I promise you won't be disappointed! Here it is as was written many months ago.
Well this morning I woke up with 2 unexplainable words in my mind. FRENCH DIP!
Why they were there I just don't know. I usually don't order it at the restaurants. Why? Well It comes on soft bread, with little taste and with a weak flavored "au jus".
What good is that. Well I got up out of bed and started trying to figure out how to make it better. I looked and looked for a good recipe. None really appealed to me, but, a few had things to it I liked. Well after some thought I finally combined 3 different recipes into one. At the store I found some hard crusty rolls. Now the beef is in the crockpot.
Also I just couldn't think of what spread to put on the rolls. A good mustard you would think. Well so did I! I found a good recipe for that as well and now have a nice homemade spicy garlic mustard resting in the fridge!
The mustard!
Hot Mustard Sauce
4 Tablespoons dry mustard powder
1 Tablespoon white wine vinegar
2 Tablespoons flat beer
2 cloves garlic
1 teaspoon sugar
1/2 teaspoon salt
1/4 teaspoon turmeric
1 Tablespoon olive oil (optional)
Whisk together dry mustard, vinegar and beer. Use a garlic press or a large pair of pliers to squeeze the juice from the clove of garlic into the mixture. Stir in sugar, salt and turmeric. To make smoother and less hot, add olive oil to taste.
French Dip Sandwiches
* 1 lean beef roast (3 to 4 lbs.), rump, lean chuck, etc.
* 1/2 c. soy sauce
* 1 (10.5 ounce) can condensed French onion soup, undiluted
* 1 (10.5 ounce) can condensed beef consomme, undiluted
* 1 (12 ounce) bottle of dark beer (negro modelo very good)
* 1 pkg. italian dressing mix (dry)
* 2 bay leaf
* 1/2 teaspoon coarsely ground black pepper or pepper blend
* 1 tsp. dried crushed rosemary
* 1 tsp. dried thyme
* 1 tsp. garlic powder
* Onion, sliced thin
* 6 clove garlic, peeled and crushed
* Hard rolls (A good hard crusty bread is needed)
Place roast in crock-pot. Mix next 12 ingredients and pour over meat. Cook on LOW for 8-10 hours. Remove roast and shred "pull" with 2 forks. Reserve juice for serving. Slice meat thinly or pull apart. Pile meat on buns with optional veggies and cover with cheese (swiss or provolone if wanted) Serve on plate with cup of juice for dipping.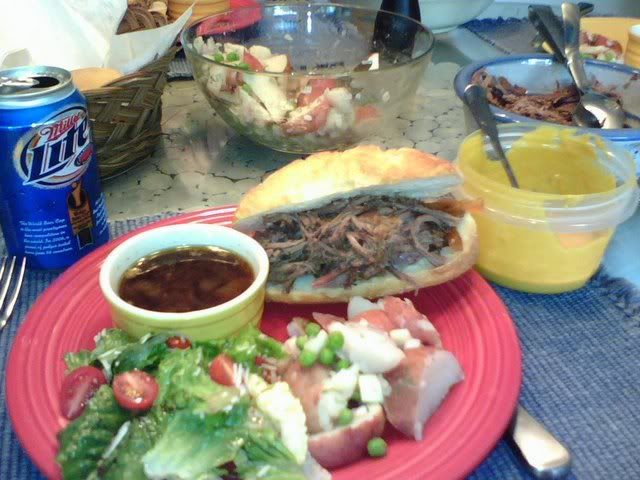 Best French Dips EVER!
The homemade mustard added the right kick to it.