I stuck my neck out last week and went public with my fledgling smoking skills. My wife and I invited the staff and elders (as a minister, they're my bosses...) and their families from our church for a picnic, and 40 of 45 showed up.
With all those folks coming over, I decided to start early and smoked a pair of chickens the day before on my Rival KC smoker. I tucked them away to be reheated/crisped in the oven on Monday (mea culpa, mea culpa, mea maxima culpa). They were pretty good, but not worth posting.
However, I'm pretty proud of the results I got with the Boston Butt (my first).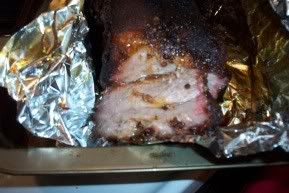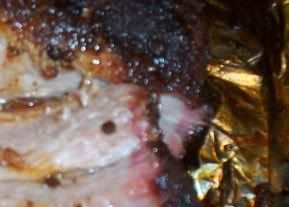 Play-by-play:05-25-08Day Before:
Rubbed it down with "Wild Willy's Number One-derful Rub" ("Smoke & Spice," Cheryl and Bill Jamison) and tossed it back in the fridge overnight.
05-26-0806:00:
Dragged it out and let it sit while I fired up my no-name bullet charcoal smoker.
06:30:
Smoker hit 220 degrees, and I loaded it up.
07:00-13:00:
Spent the rest of the morning dragging limbs, branches, and twigs from a dead apple tree that fell in the field next to the house, breaking it up, burning it down to coals in our "marshmallow grill" (local ordinances don't allow "fire pits"), and carrying shovels of coals to the smoker. The "sweet spot" for my smoker seems to be about 240-250; otherwise it would dip below 200.
13:30:
Meat thermometer hit 160, so I knew it wasn't going to make it by my 2:00 serving time. So I wussed out and wrapped it in foil and put it in the oven at 350 for another hour....
15:00:
After letting it rest for half an hour, "dessert" was served. Manna from heaven....