Here's the turkey I mentioned in my Roll Call post...I love smoked turkey! The meat is so versatile, and the bones make the best stock, gives a great smoky flavor to greens or gravy or soup.
Did it a little differently this time....I usually brine them, but this time I realized I was out of kosher salt, so I gave it a good rubdown with my homemade dry rub and put it in the fridge overnight. In the morning I picked some herbs out of the garden and mixed them with soft butter, then crammed a bunch of that under the skin. I like to loosen the skin all over the breast and thigh area with a chopstick so I can get the butter all over the meat under the skin. Then since I had the bacon out already to make some ABTs, I put a few strips over the breast (first time trying this). I smoke em breast up.
Smoked about 5 hours, spraying with apple juice now and then. I also did not soak the chips....I usually do, but after reading some threads on the forum I tried using them dry. I think it worked even better! Fantastic smoky flavor and I used less wood than usual. The bacon was great, super smoky and toothy texture.
Don't know why I didn't take a picture of the ABTs (first batch ever) but there will be plenty more to come in the future, I'm going to make some every time I smoke! Did a simple filling of chorizo and shredded cheddar. Did not precook the sausage, and it came out perfectly done.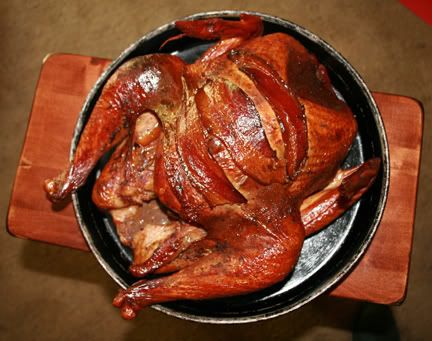 2 of my dawgs hoping to get lucky!