Alright so this is my first ever smoke. Man was this fun. It was done on this little baby:
http://www.sausagemaker.com/index.as...OD&ProdID=1295
nice unit, I will review for people once I have done more that 1 smoke with it
.
On the menu:
4 chicken thighs rubbed and smoked (2 with skin to bald for comparison)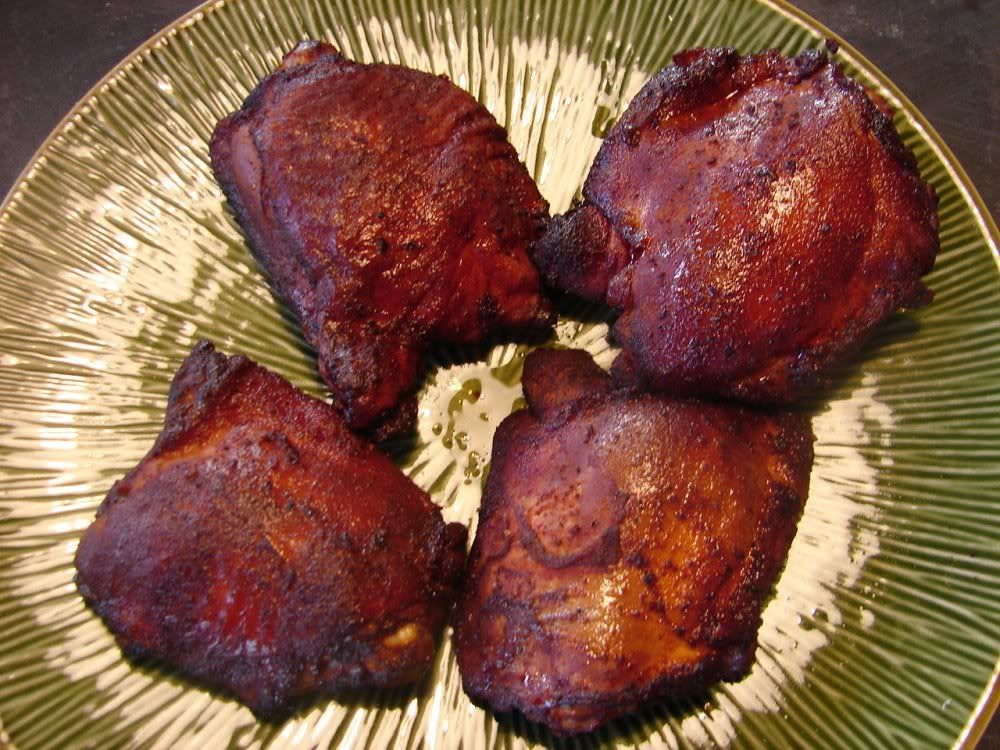 Pork breakfast sausage fatty with eggs, jalapenos, garlic and red bell
jalapeno poppers stuffed with crab, parm. ch., cream ch. and black pepper. You are going to have to cut me some slack but I just cant bring myself to call them turds of any kind. Also on the board are some of the smoked almonds I did.
The fatty was really pretty fun and tasty, everyone who tasted it thought it was great. The almonds were really amazing. Next round I will smoke for longer since the smoke was pretty subtle.
for anyone interested:
beat an egg white until foamy, toss the almonds in the egg then dump on a tray. Mop up any extra egg with a towel so almonds are just coated with egg but not swimming. Sprinkle with salt, smoked paprika and black pepper (2:1:1). I smoked at about 225 for an hour but it could use more. Put in 400 oven for 10-15min. Let cool then devour.
The poppers were really good but really all over the place as far as heat goes. Few were mild as a bell and one almost killed me. Very addictive, I see more in my future.
The chicken was disappointing. Rubbed and smoked at around 225 until 175 internal. The outside was like leather and it was absorbed too much smoke flavor for my taste. I have had insanely good smoked turkey legs (by others) so I will read more from this forum to see what went wrong.
Thanks so much to the members of this great forum. I have learned so much here and have so much more to go
keep up the good posts!