Always dreading going back to work the day after the holiday I decided to take the day after the holiday off. I'm glad I did because it's an absolutely gorgeous day outside!!
Being bummed about the Penguins loss in game 2 of the Stanley Cup Finals last night, I decided to smoke two "firsts" that also make for a nice picture that I'll title "Ode to the Red Wings". No explanation will be needed
Details of the smoke:
1 - 3" thick sirloin tip roast (bottom round, I believe)

1 - 4.06# whole chicken brined in
Travcoman45's tasty brine
and sat on a modified budwiser beer can (holes added) with a mixture of beer, soy sauce, teriyaki sauce, and cajun spice
assortment of garden fresh veggies (zucchini, tomatoes, small red and white potatoes, green and yellow bell peppers, portabello mushroom caps, cut up, 6 cloves of minced garlic) soaked in my veggie brine
Using hickory and will smoke the chix until internal temp reaches 165 and the sirloin tip reaches 150, and will foil both for an hour. Will spritz chicken with mixture of spiced rum and cherry juice (ripped off from d88de, love it!).
The chicken is for my co-workers tomorrow. The roast is for steak, veggie, and cheese hoagies later tonight.
To the newbies -
this is what I've learned from SMF so far
!!! It's a thrill to be part of this place, I love it!!
Picture of roast with marinade ingredients: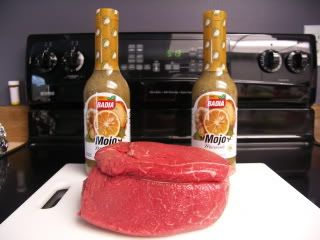 Thickness proof:

Smoked veggie ingredients: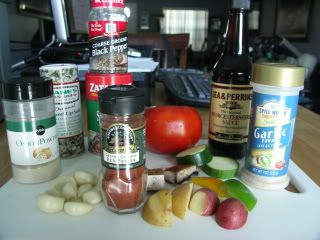 Modified beer can with added holes!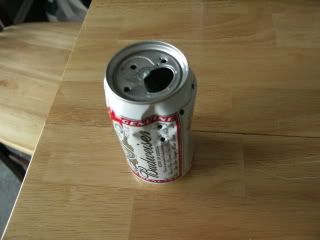 Big mama bird on her can: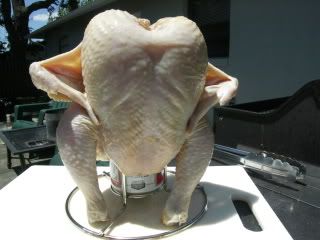 Veggies spiced up and awaiting the smoker: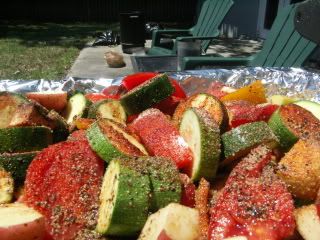 Mama bird (red wing) looming over
Seared roast (puck)
: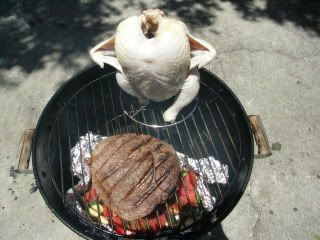 Silly analogy, I know, but need to make light of the fact that the Pens are down
. Plus, I thought it might make Red Wings fans know that not all Pens fans are jag-off's!