First... let me say this would have never happened without Cowgirls posts, blog, and pm's. Patty... I can not thank you enough!!!!
After reading the post about the cinderblock method of cooking a whole hog I decided that was going to be my Memorial Day project. With the exception of a grease fire about half way through, it was a smashing success. Plus, I learned from the grease fire and I'm confident that can be avoided next time. I had not prepped the ground adequately to allow the grease a place to go. I built a dam around the fires but the grease still pooled in the middle worse than I thought it would. Any way... on to the q-view. (sorry... I still haven't figured out how to do thumbnails and the pics of the pre-cook prep type stuff didn't turn out)
I decided to leave half dry (made up a triple batch of Jeff's dry rub and covered the whole thing!!) and mop the other half. Then took a poll after everyone had a chance to try both sides. In a landslide victory, the mopped side was the favorite. I personally was in the minority. So I'll be mopping the whole thing next time.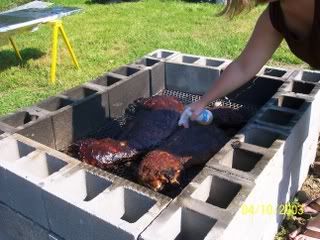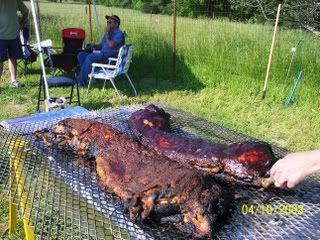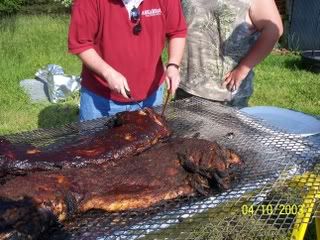 I did make one slight mod to Cowgirls assembly. I added some blocks to the construction which allowed a center block on each end. I turned that block on it's side leaving me an access hole to add fuel. I used tongs and placed charcoal on the fire as needed. I found this to be fast and easy without letting out any heat. Then I placed an additional block in front of the access hole to seal it up for low and slow.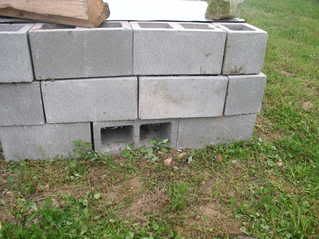 I recommend this way of cooking a whole hog to anyone. It was a ton of fun and pretty easy. I can not wait to do it again!!!