First of all, thanks to everyone that gave me advice on my related post "Deer Loin Help..."
I would say on a scale of 1 - 10, tonight's smoke was about a 7. I'll take that for my first attempt at venison. My biggest mistake was thinking that since my family pretty much won't eat pink meat that I should take my loins to 160 despite all the warnings about over cooking. It wasn't tough per say... But I think it would have been even better had I done what I was told and pulled it at 150.
My other mistake was figuring out how long it would take. WOW.... it cooked fast! One hour and fifteen minutes from room temperature to 160. I guess it helps that I'm getting better managing my fire but it really helps that the outside temp was in the mid to upper 90's. I had a steady temp of 250 for the whole cook. Any way, it was done way too soon! I thought, oh well, I'll wrap it and let it rest for an extra long time. Sounded like a good idea but it got cold. Even though I double foiled it and double toweled it and put it in a cooler in the sun, it still got cold. *sigh*
Not so cold that we didn't go ahead and eat it just like it was though. I didn't want to risk drying it out. I felt lucky as it was.
Here is the meat thawed and ready
I'm not sure what that silver stuff was. Tendon maybe? It looked tough so I trimmed it off. I hope that was the right thing to do? Here's what it looked like right before the marinade. I hope from these two picks some of you experts will be able to identify which loin it is? Maybe it's both? Maybe they are all one in the same? There was a lot of conversation about this in my "Deer loin help..." post.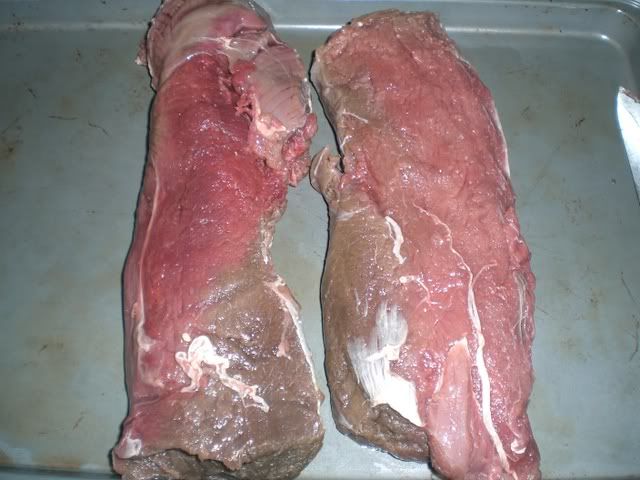 The marinade: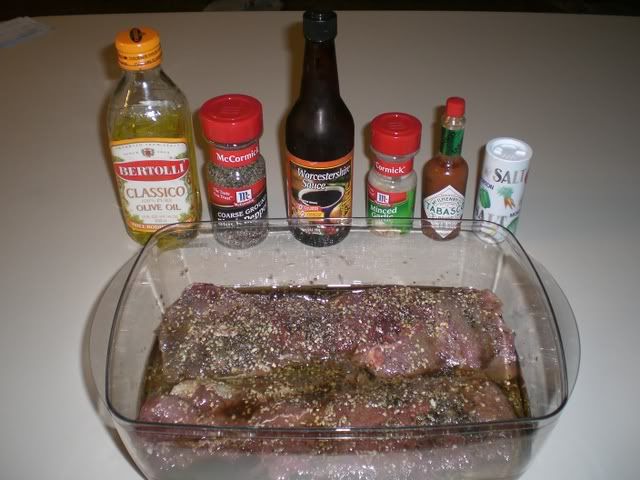 ready to serve:
ready to eat:
It was really good but I'm already looking forward to my next try at it.
Thanks again to all those who talked me through this. I would have hated to screw it up real bad. I mean, it's not like I can just run to the store and buy some more. Let's see... how many days until deer season???