After reading about all of the great Mother's day feasts you all were preparing yesterday, I decided to smoke a duck. This was a domestic duck..not wild.
I used my old horizontal with some apple wood ...put some apple juice in the drip pan. Rubbed the duck with butter and seasoned with kosher salt and cracked black pepper.
I wanted to keep the seasoning simple so I could use the leftover smoked duck in some gumbo........trying to plan ahead.
I found some scallops in the freezer so I seasoned them, wrapped them in bacon and threw them in the smoker too.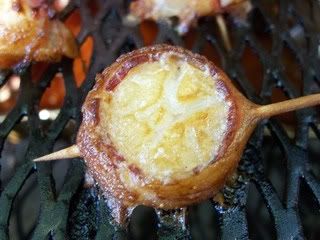 The duck came out very moist and tasty...
I even broke out the good paper plates.