I'm basically planning on using this as a wood smoker as I have a lot of oak and cherry on hand. Thus I quickly discovered the need to pre-burn the wood before it goes into the firebox. Was planning to do a couple of butts for some friends and family for dinner Saturday but the weather forecast called for rain and I'm not sure how I'm going to pre-burn the wood into coals without the rain putting my fire out. So the butts went into the GOSM @ 2:00AM Sat and turned out great but I had my heart set on using the new Charbroil Silver Smoker so I fired it up Sunday and did a meatloaf and a small pastrami.
First an aerial view of the Silver Smoker and my wood burning set up.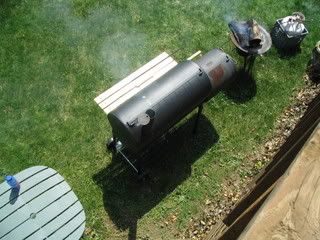 Got the temp up to 250o with TBS flowing and put the meat on.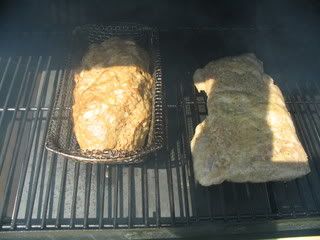 Took about 6 hours to get the meatloaf up to 165o but the pastrami took a few more hours.
Both turned out pretty good. Silver Smoker held temp between 225o and 250o pretty well as I was able to do some other chores and then come back and add coals to the firebox and wood to the fire.
All in all it worked out well. Got a few more mods to do to the smoker and need to tweak my pre-burn procedure a little to accommodate wet weather.