The SMF Forum chat room members (Pineywoods, Ron50, desertiles, travcom, to name a few...) have convinced me it's time to graduate from ribs and london broil, to a boston butt. Not only did they convince me, the encouraged me; another great thing about this site -the camaraderie!
I'm smoking these butts to make pulled pork for my office buddies, including my boss. Am in this for the long haul and can't wait until the finished product is produced!!!
Here's the low-down on my boston butt smoke:
Details:

1. 2 - bone-in butts (9.3 lbs, and 4lbs)
2. Jeff's rub - didn't have time to marinate, applied just before placing on smoker
3. wood = hickory chips
4. Water pan contains 50/50 mixture of water and cherry juice (WDs use on the mother bird motivated me to try this in the pan, instead as a spritz)
5. Outside temp. 83 deg
6. Internal smoker temp = 225-230 deg F

Plan:
1. Maintain smoker temp at 225-250 deg F range. Add wood chips as necessary to maintain TBS
2. Once internal temp of meat hits 100 deg F spritz meat with 3:1 mixture of juice and rum -

does the idea of using a mixture of 3:1 cherry juice with spiced rum sound alright????


3. Once internal temp of meat hits 165 deg F double wrap meat in heavy duty aluminum foil, spritz the meat again prior to sealing up and continue smoking until internal temp hits 195-205 deg F
4. Remove foiled meat from smoker and wrap up meat tightly with foil.
5. Place meat in cooler, covered with a few heavy towels. and let meat rest for an hour.
6. Unwrap meat and move to pan, begin the shredding process!!!
7. Douse the meat with my favorite bbq sauce - Dreamland (based in Tuscaloosa, AL) and cover up for sammies the next day.

Here's some q-vue to kick off the post. Will update with more pics as available:



Picture of boston butts, bone-in. Big one is 9.3 lb., the smaller is 4 lb. I didn't measure the thickness, but would estimate it between 5 to 6 inches.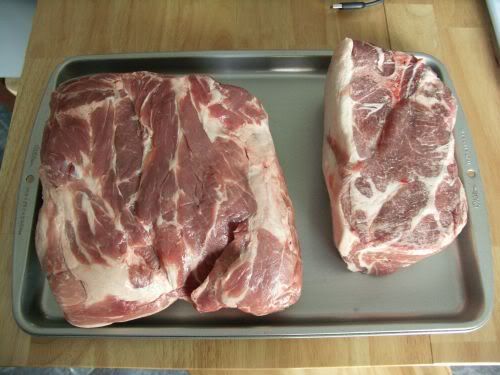 Jeff's magic rub - love this stuff!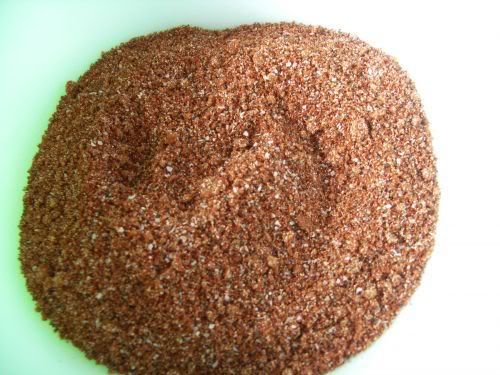 Butt's rubbed and resting - awaiting their fate on the grills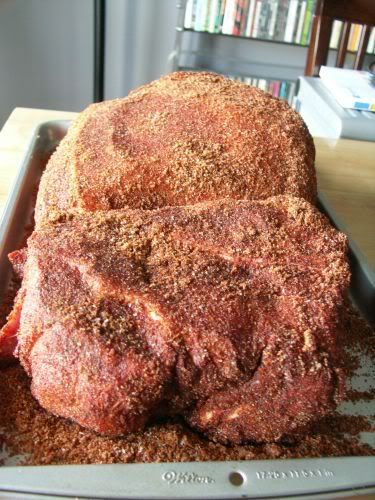 Butt's on the grills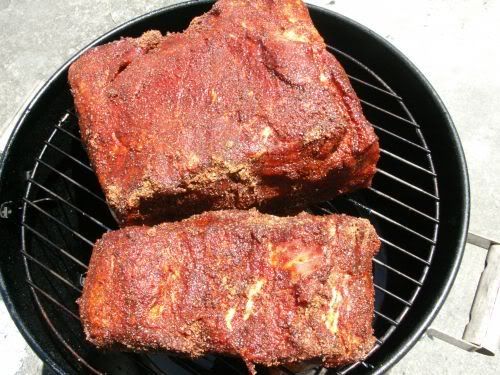 It's a beautiful day, looking forward to this smoke!