I made a beef pastrami a few weeks back. It came out great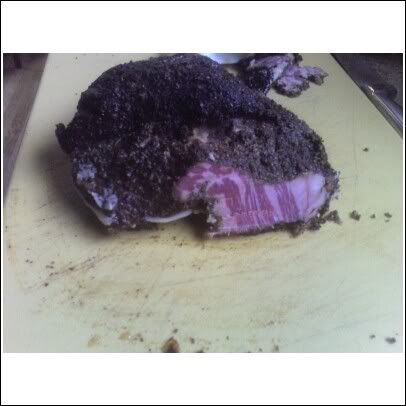 (sorry for the poor quality, i had to use my cell phone)
I experimented with the point brisket. definitely using the flat cut next time.
so now i decided to venture into Turkey Pastrami.
I got a boneless turkey breast and brined it over night (salt, brown sugar, peppercorns, whole cloves, bay leaves, thyme, garlic)
Threw on my pastrami rub that i coarse ground in my coffee grinder
1/4 cup Peppercorns
1/4 cup Corriander Seed
1/3 cup Juniper Berries
ok here it is. once again, sorry for the cell phone pics. my digital cam batteries died and the pastrami will be consumed before they recharge.
btw, Is anyone else in the North East loving this weather?
can't beat sittin in the backyard on a 70 degree day with the smoker goin, havin a cigar and a cold beer.