I did more Canadian Bacon today using Cowgirls recipe.Sorry I didn't take pictures of each step,got busy and forgot.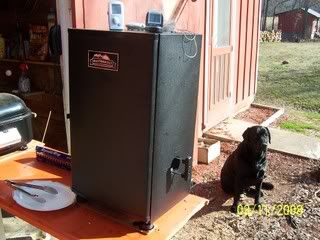 Here's one of my dog's thinking he's going to get some.
About half way through smoke.
Letting it cool before slicing.I would never have been able
to do this or much of the other things I smoke without this forum,
this is the best forum on the internet.I just want to say thanks to all the members for the advice and recipes.