Put Jeff's rub on the country ribs.
Smoked at 225 degrees with hickory for 4 hrs.
Sprayed every 45 mins. with apple juice.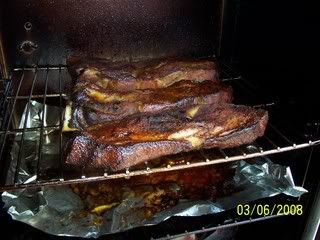 After 4 hrs. foiled for another 2 hrs.Took out of foil,
put on some of Jeff's sauce,put back in smoker for about
1/2 hour,came out delicious.
I think it's hard to ruin anything using Jeff's rub and
barbecue sauce.