This is a companion piece to my other mod.
I used my first mod successfully the other day but was not crazy about having to lift the racks, put them on a table, put the new chips in, lift the racks yet again. This gave to many chances for catastrophe.
So I dreamed up my "3rd Hand".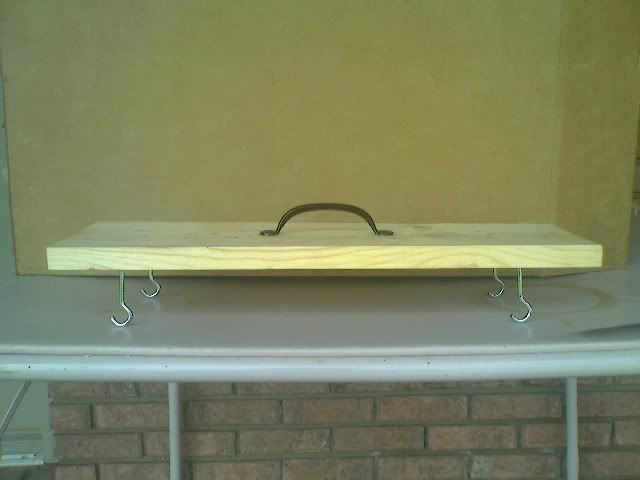 It is nothing but an 18" long 1x6 white pine, four 3" hooks and a cheap handle. Less than 5 bucks for all at Lowes.
I just marked the board to where the hooks would pick up the bottom rack, screwed the hooks in where they are facing same direction and put the handle on.
I did have to cut off part of the "J" portion of the hook to get them to fit between top and bottom rack.
Now all I have to do is lift the lid, hook the rack and lift it just enough to where I can put more chips in. Keeps the meat out of the heat for much less time and also can do this much safer. The rack may have been out of the unit for 30 to 45 seconds.
I do know it will handle an 8lb shoulder.....got'er smokin' right now!!!