My first rib smoke was last weekend. I smoked 4 racks for my wifes family and it was a big dissapointment. They said they enjoyed them but I wasn't happy at all with the taste. I used Jeffs Rub Recipe and followed the 3-2-1 method the best that I could but failed miserably. They were cooked well but the rub was WAY too peppery. I followed the instructions exactly but I think I used the wrong type of pepper. I wasn't ready to give up so I tried again today. I used Jeffs Recipe but I used a different pepper and about half as much. They turned out perfect. Different strokes for different folks and everyone thought they were great this time around.
Just tossed in the GOSM, lightly rubbed with Jeffs Recipe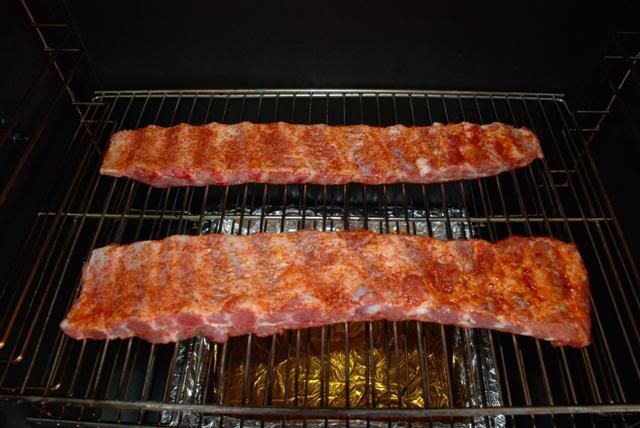 Used 3-2-1 method, kept at 225-240 degrees, mopped every hour with apple juice and splashed some in the foil before I wrapped them, after they came out of the foil I tossed em back in until the hit 172. Smoked with hickory and cherry.
Didn't even have time to grab the camera before some were missing
Great smoke ring and fall off the bone tender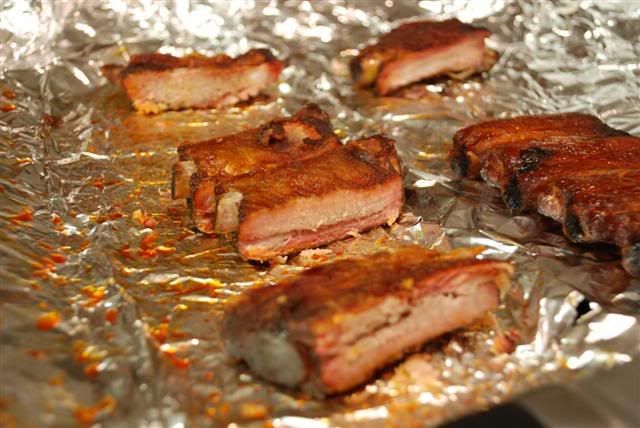 Dutchs Wicked Baked Beans are incredible, if you haven't tried em you don't know what you are missing
About 7 minutes after the first picture was taken
Thanks for all the advice, you guys are making me a hero around my house, everyone loved this meal. They want me to smoke 8 racks this weekend for my uncle's birthday party.