Made a couple of simple mods to my GOSM and wanted to share the pics. First, I keep my GOSM in the garage when it isn't in use but I have to carry/drag it outside when it is time smoke so I installed some casters to make things easier.
Second, I smoked about 6 racks of ribs a couple of weeks ago and noticed that the slabs on the bottom were getting done alot faster than the racks on top. I did some research in the forums and one of you guys gave me some great pics and a website (
http://www.kck.com/bbq_pit_grill_thermometer.html
) to pickup and extra thermometer. I found that temps in the top of the unit could vary 15-25 degrees from the bottom. This really helps me to adjust the cooking times accordingly.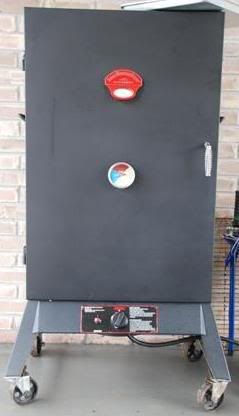 These are some pretty simple mods, thanks for all the help. I am sorry I can't remember the screen names for everyone who helped me out, I want to give credit where credit is due.