Did a 14 lb. packer brisket for the Super Bowl party this evening. Thought I would share some q-view with yall. Click a picture for super-size q-view.
Heres the bad boy....notice that price! Im still amazed myself.
Rubbed down with Stubb's rub.
Into the smoker fat cap down for 6 hours.
The thin blue is flowing and the dog is sleeping enjoying the 65 degree weather.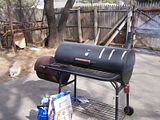 Heres the Monster japs. Texas size.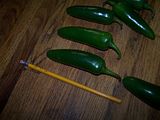 After about 45 minutes they're done. I dont have quite as many today as I did yesterday. Heck, I gotta eat something while Im smokin.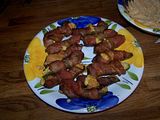 The brisket after about 6 hours of smoke.
Removed from the smoker and placed in a pan fat cap up for the remainder of the smoke. Until the internal temp reached 200.
I got about 2 cups of au jus, and spilt about 3/4 cup on the kitchen floor bringing it in the house. Gonna make some homemade barbecue sauce with it.
Heres about half the brisket. I sliced the flat and chopped some point for sammiches. I saved the burnt ends for myself, for pinto beans.
Happy Super Bowl Sunday. Enjoy it and stay safe out there.