Well I have had this nice piece of rib eye in my fridge for 3 weeks now, figured its about time to warm it up!
I cut it in half and sliced about 8 steaks off of the smaller side, and decided to smoke the other half! Rubbed it up fri night with some kosher, lil paprika,some onion salt,garlic pepper and black pepper, and along with the roast, I rubbed up 2 racks of baby backs with my usual rib/butt rub, and another rack with garlic pepper, paprika, turbinado, chili powder. I decided to roll them and skewer instead of the flat smoke, just to change things up a bit.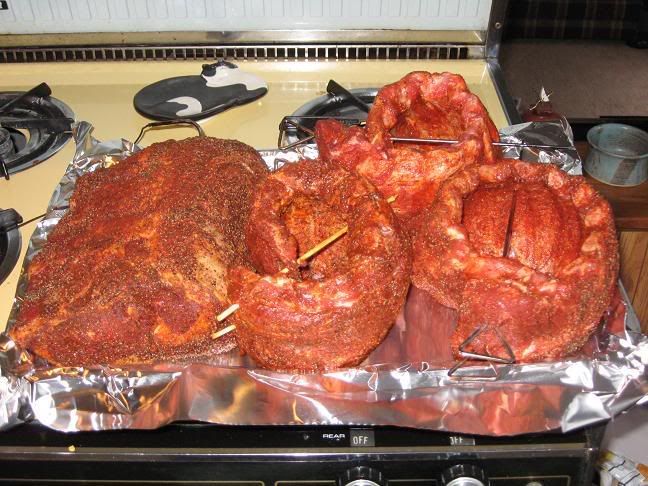 In they went at 9:30, after a 1 hr warm-up on the smoker. I just made a new fuel basket and a couple new tuning plates, so I am anxious to see how this smoke goes.
This is after 1 hr in the smoke(apple and Cherry chunks), meat was 65, smoker runnin between 225 and 245. You can see the new plates under the meat in this photo!
They are made from some steel chair backs I got from the scrap pile at a local manufacturer of out door landscape furniture. About 3/16 thick.
I will post more as the smoke continues.