One of the problems I have run into with slow cooking chicken, the chicken gets "too" smoked with a 3+ hour cook time. The skin has a juicy layer of black on it that makes it a little messy to eat. The average cook time for my chicken is at least 3 hours at around 225 degrees.
The wood is usually a combination of red oak, pen oak and pecan.
To get around this black layer, I started smoking the chicken for about an hour and a half. Then moving the chicken into a pan covered with foil for another hour and a half and maybe a little more.
My wife and I usually get a bag of leg quarters, separate the leg from the thigh, season and put on the grill.
The pit, with the storage shed in the back ground. The chicken is in the blue pot ready to be put on.
Chicken just put on the grill
Smoked for about an hour and a half - notice the pork roast on the left hand side of the grill. That will be a different post.
The chicken was then put into a foil pan, sealed and cooked for another hour and a half.
This is the end result.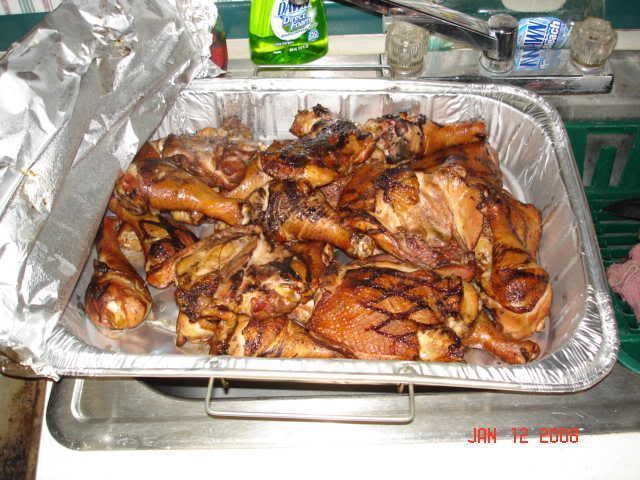 After 3+ hours of cook time, the fat in the chicken has desolved into juice. When you eat this chicken, the juices come running out.