Hello everyone, my name is Kevin.
A little about myself:
Age - 40
Married - Yes
Children - 4 and 4 step kids for a total of 8.
I consider myself about 1/2 way on the "smoking experience" scale. I have been smoking meat for several years, but I do not do it full time. One of my first smokers was a home made smoker with a grill about 3 feet long. My second unit was a smoker with a grill about 3 feet long and a small firebox.
Here is a picture of my second smoker with some pork chops. This pit is about 6 years old and been moved into retirement.
As my family has grown to 7 grand kids and 2 more on the way, I decided it was time to build a larger smoker. So I got an old 250 butane tank and built a bigger smoker. Its on a trailer so I pull it to family reunions and such.
The firebox is 24 inches in diameter, 2 feet 6 inches long and is out of a 150 gallon propane tank. The main smoker has a cooking surface of 6 feet 9 inches long and 29 inches across. There is a temp gauge in each lid.
This picture was taken this past weekend at a family reunion. The box on the front is for dry wood storage. Its too small and will be replaced pretty soon.
I use
ONLY WOOD
!!! And only wood that is locally grown. Which includes Red oak, Pen oak and pecan. Because of the amount of wood that I use, it would be too expensive to haul in a couple truck loads of mesquite. If it aint cooked over wood - it aint smoked. The ashes are used in the backyard garden as fertilizer.
These pictures were taken during the family reunion this weekend. We cooked a pit load of baby back ribs.
The smoke stack is made out of 5 inch pipe and stands almost 8 feet tall. The pit is still not finished, I need to paint the trailer, put some more weld on the trailer and pit.
The lids are designed to use springs to help with the opening of the lids. I welded some chain links to the outside shell of the pit, and a shackle so I can disconnect the springs.
Labor day weekend cookout. I smoked a brisket, several racks of ribs, boudain, deer sausage and cooked corn on the cobb with the husk still on. This was before the pit was painted. This is also one of the first times I ever used this pit.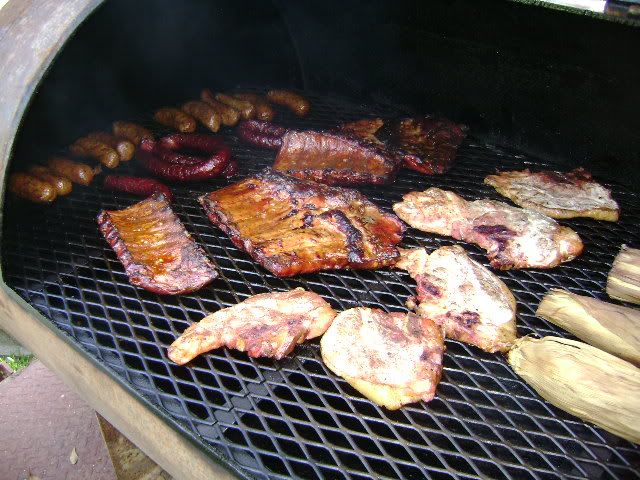 Most of the sausage we cook is real deer sausage. My son got a 6 point and I got a 9 point this year. We are avid hunters and usually have some type of deer on the grill when we cook. Some times we smoke deer steaks and back strap - but mostly sausage.
So - Hello everyone!!