Hello all. This is my first post here.
I need some thoughts on my new smoker project. I have used an electric brinkman for several years but don't really like it for smoking summer sausage, bacon and other things because it gets too hot and doesn't realy have room to hang large bacon slabs or sausage. It does alright cooking though. I was told by freind that you can make a pretty good smoker out of an old refrigerator if you find an old one that's all metal. My father-in-law had a few in an old farm shed so I rummaged around this past sunday and found one that I think will work great.
It's an old 50's vintage model that already had the compressor and workings taken out. It was fairly clean and dent free. I removed some rubber spacers and pads on the inside. The inside door panel was made of what looked like fiberglass or some other heavy fiber material so I removed it and the rubber door seal. There was also a small amount of plastic trim around the opening that I replaced with some metal flashing.
For the heat source, I have a 1000 watt table-top electric grill that I think will work good. I also picked up a temp controller today at an appliance shop.
1st question: If I only use this for smoking summer sausage, bacon, jerky which I like to do no more than 170 degrees, does all the plastic have to come out? What do I use to replace the rubber seal that was on the door. I have a pretty big gap now. Can I use the fiber rope that is used for wood stoves?
2. Where do you recommend putting the temp probe for the thermostat? In the very top?
3. I was thinking of putting lava rock on the heat element like my brinkman. What's your thoughts on lava rock. I'm not sure I can set a pan right on that element. It has a grill that's an inch off the element so I don't know if the pan will get hot enough. see the pic below to see what i mean.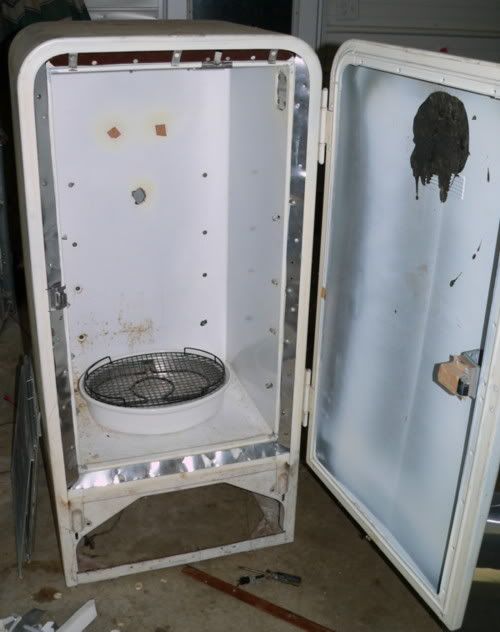 Here's the door with the panel removed. I'll need to find a piece of metal to fill this if I want to maintain the insulation value of the air space.
The grill comes in a porcelin crock with a drip pan. Not a bad setup. I may take off the grill and go with lava.
I'm going to drill a hole out the back for the cord and of course add my bottom and top vent holes.