I brought some q-view to share with yall this evening. I smoked 4 racks a baby back ribs and some of Dutch's wicked beans. It was my first attempt at the beans. I tell ya, those beans are awesome. I was a little hesitant about adding pineapple at first, but I added it anyways. And Im sure glad I did. Pineapple goes good with baked beans. Who'd a thunk it?
Mama made her Irish potato casserole/salad, some corn on the cob and her homemade bbq sauce. She makes a darn good TX style vinegar based bbq sauce. It puts the icing on the cake if ya know what I mean.
Taking them off the smoker. They were smoked with pear wood for 5 hours with no foil.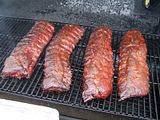 Mamas irish potato casserole/salad, Dutch's beans, corn cobs & homemade bbq sauce.
Ready to be sliced.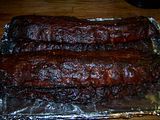 4 racks of baby backs sliced and ready to be munched.