Welcome to SMF new members!Here's a great way to find some quick simple answers!If you look at the top of any page you will see the Blue tool bar.It has the search feature I will discuss here.Click the search and pick the topic you would like to search.Here are a few suggestions;
Fatty
ABT's
Smoking turkey/chicken
Precooked or fresh ham
Your smoker type
Notice you can search The thread title or a post where the subject was mentioned.There is also an advanced feature to allow you top narrow down your search topic.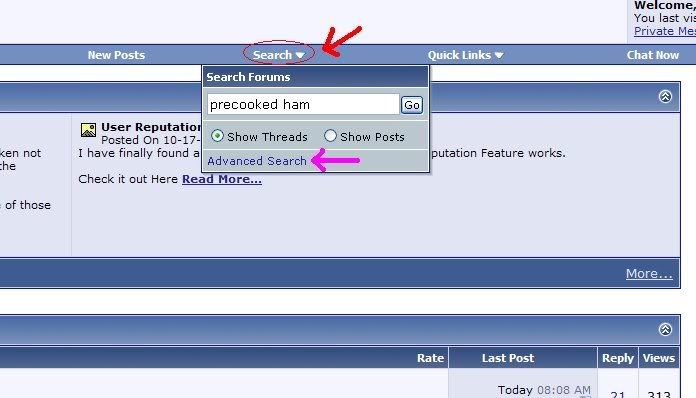 Here you can really define your search. Notice there is also the post and thread options here.Also you will notice you can specify the forum to search in.The search feature automatically defaults to " search all open forums"feel free to experiment with the other features as well!

The search feature should allow you to find the majority of information your looking for.If you still have questions about the topic or You may have new questions after learning a few things, Feel free to post a thread and We will be happy to further assist you!There is allot of great people and wonderfull knowledge to learn here! Please do not hessitate to ask any questions!
..