We are in the middle of a usual michigan snowstorm, but now that the "stinky shack" has been in use, it just don't matter any more!
As mentioned earlier in this Beef forum, The day had come to smoke the big chuck. 18.65 lbs . Friday night I cut the roast in half and trimmed off a smaller flap/skirt that I thought would be over cooked if I left it on with the big parts. I slathered in musty, and added a rub of salt, black pepper, red pepper, garlic powder, onion powder, turbanado sugar, and paprika. Let it set in the fridge overnight , along with 3 racks of babby backs with my own pork rub,no musty on them.
I was gonna post a pic, but we have all seen mustard on a roast, so I'll trudge on.
Saturday I slept in
so the roasts didn't get to the smoker till 9 am. All is well, and at noon, I decide that there is very little room for the ribs, and I thought about doing them on sunday, but I didn't want them in the rub for 2 days, so I remember reading about rolling these racks into a circle, and holding with a skewer. So I added the ribs at 12:30 and the smoker was FULL!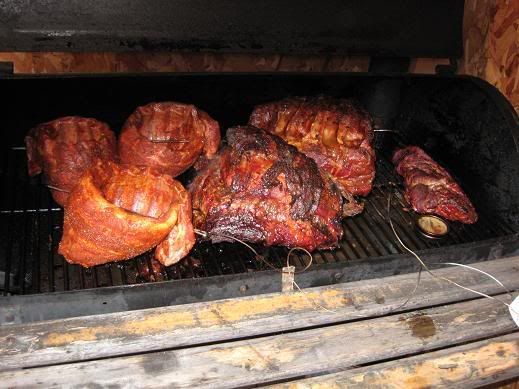 The roast parts plateau were all at different times and some of them lasted over 2 hrs. They were foiled at 160-165, and the ribs went till 3:30, got foiled(in the roll w/o the skewers) and stayed in the foil until 5 and then rested for 1/2 hour. They were excellent, and I liked the way they didn't take up as much room as usual.
Finally after 12 hrs, they reached 200 on the first roast, into the cooler with a wrap for an hr. After that I cut it in half to take a look, it was hard to cut without smashing.
The last big half came out at the 13 hr mark. They pulled nice and I am completely happy with the results. 19 lbs of beef ended up filling two gallon ziplocks, and weighed almost 10 lbs.
The whole day smoke was enjoayable, entertained company, but after pulling all the meat and clean-up it was past 12:30 am, and I was ready for bed! Next time I will start them at 6-7 am like I was supposed to, and cut the roast up into 6-7 lb chunks instead of 9 lbers!