Well, it's cold enough here that I started smoking some cheese today. If it's too warm out, I can't keep the temps down. I started out with about 2 Lbs of pepperjack and 2Lbs of Colby/Jack marble. I usually just cube it and serve them as snacks before/after Christmas dinner, so I cut it into strips about 1/2" x1/2" an cut those into cubes after the smoke, I also kept it in the freezer until I'm ready to put it in the smoker.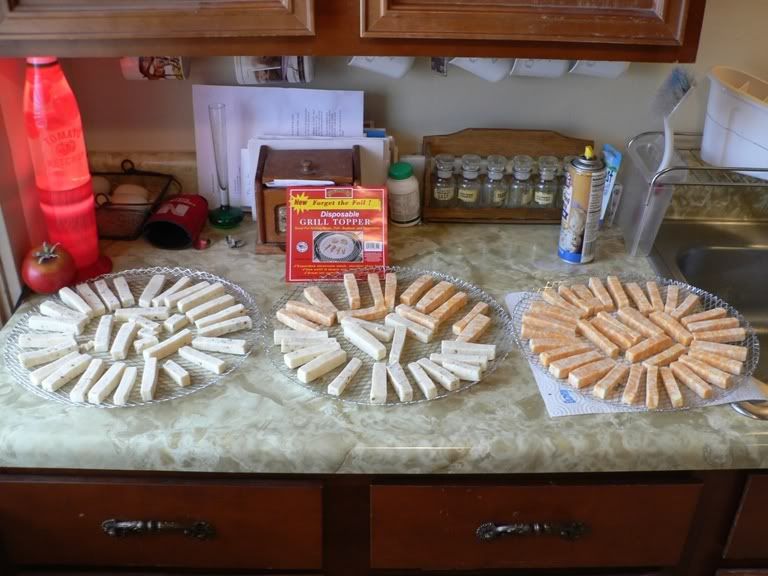 When I smoke it, I usually try and fire the smoker pretty hard until I get the smoke rolling pretty good out of the box, then kill the fire and place a can of sterno alcohol fuel in the smoker to keep the wood chips going without adding too much heat. (the can says it burns at approx 205 deg F)
To top all of that off I use an aluminum pan and fill it with ice, or in this case today snow, as a backup means of keeping the temps in the smoker down.
Occasionally I've had the smoke kind of die off so I've actually had to pull the cheese and sterno can so I could relight the propane fire for a while and get the smoke going again, but this is pretty rare if I get it going good the first time.
Anyway I thought this might be a help to any otheres out there who love smoked cheese, but don't have a "cold smoker" to get the job done with.