I know its been a while since I posted. Last week was crazy and really didn't have much time to type.
Saturday I fired up 2 of the 3 smokers and here is what went on:
1 ham pre-cooked and spiral cut, cooked to 150*
2 fatty's, 1 with cream cheese and shredded cheese, olives,mushrooms,oinions,and peppers. The other with slices cheeses and the other same ingredients.
4 racks of spare ribs done 3-2-1, rubbed then used sweet baby rays at the end.
1 meatloaf
2 deer roast. They were soaked over night, then injected to help keep them moist. Then a rub was applied and to top it off bacon was placed on top to add some flavor. Both cooked to 160*
Finally did some abts. Had run out of bacon so I used some pancetta.
I did't get prep pics or ones while it was cooking. Was busy doing about 20 other things at a time.
Here is the q-view however of some of it finished.
The ham.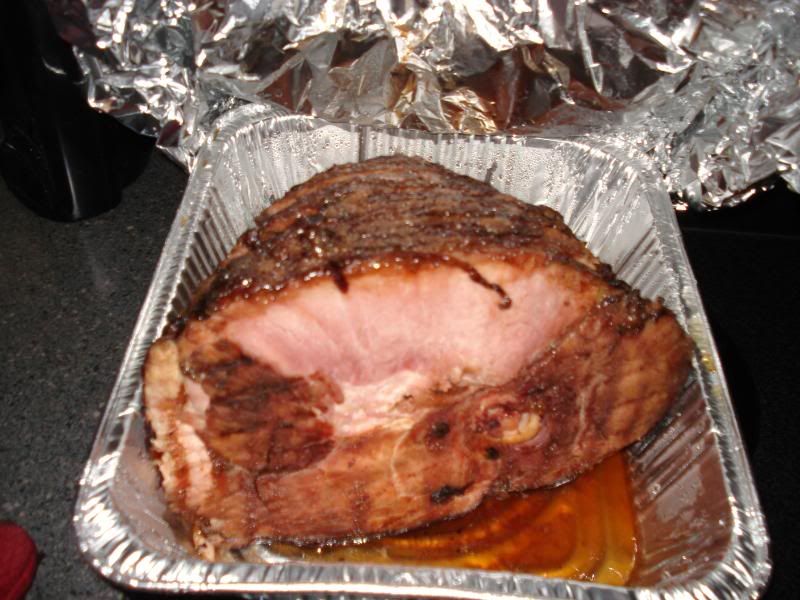 Ribs breaking apart before I could get the foil around them.
1 of the fattys
Meatloaf
1 of the deer roast before slicing.
And the abts whats left.
Wife said this was by far the best smoke I had done yet. She loved the ribs and the venison. Everything else was good as well.