Hey y'all!
Well, I've finally made it to the last installment of my story. It has been a fun journey for me and the encouragement I've received from everybody has been great!
As you'll recall, I bought a Masterbuilt Electric Smokehouse and prepped my first two "projects"...a Pastrami and a Beef Tongue. It was time to smoke!
Just as in my "seasoning run", I set up all of my stuff in the carport. It was a beautiful morning and at 9:00am I started preheating the smoker to 225 degrees (no chips). Bugs, my Chow-Basenji mix (does that make her a "chowhound"?) was very intrigued:
After an hour, I loaded the meats into the smoker and inserted the probes from my new Maverick thermometer into the thickest part of each. I loaded my "standard complement" of chips...4 soaked chips and 2 dry chips...into the chip drawer and dropped them in. (I decided to use a 50/50 mix of hickory and oak chips for this run). Then I sat back (with a little "liquid encouragement") to enjoy the moment: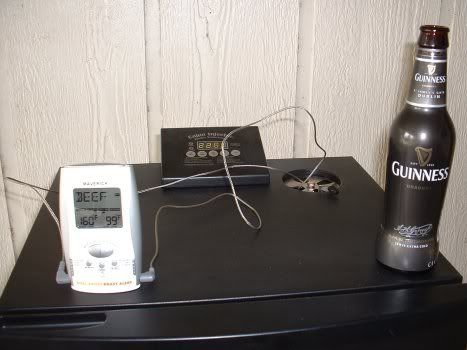 I had found on my initial seasoning run that a combination of wet and dry chips seemed to work best for me. The dry chips smoked almost as soon as I put a new batch in, and by the time the wet chips started to do their thing, the dry ones were pretty much gone. Loading a new batch every 45 minutes kept the smoke "thin and pretty".
For the next 4 hours, I watched the temperature indicators (switching between the pastrami probe and the tongue probe every few minutes) and loading chips as needed. The temperature rose at a steady and constant rate until each meat registered around 155 degrees. At this point, I experienced for the first time that strange "mystery of smoking" known as The Plateau. While the temperature of the tongue (which is a much less dense meat than the brisket) continued to rise at a constant rate, the temperature of the pastrami stopped dead at 155 degrees and didn't budge. Thankfully, I was prepared for this because I had heard several of the forum folks describe it in their posts.
The tongue reached an internal temp of 160 degrees at about 2:30pm (4 and a half hours total smoking time) and I took it out. IT WAS BEAUTIFUL!!!:
Since we were not going to actually eat the tongue for a couple of days, I let it cool completely and then wrapped it tightly in plastic wrap and foil and refrigerated it.
Meanwhile, the brisket/pastrami was taking its sweet time. After being stuck at 155 degrees internal for almost an hour and a half, it finally started going up again. At 5:30pm, the temperature probe registered 165 degrees internal, so I shut the smoker down and wrapped the pastrami in foil. I put it into a small icechest and let it sit there "stewing in its juices" for another two hours.
When we finally cut into the pastrami, it was fantastic! The meat was a beautiful pink color and it was moist and tasted a hundred times better than anything I could have bought locally. For a "Cheater's Pastrami", it totally exceeded my expectations! Even though it was much leaner than the deli pastrami that I remember as a kid, the ease of making this version will keep me making it again and again! I was lucky enough to snap a picture before it was completely devoured:
We boiled up the smoked tongue two days later, simmering it for two hours in a seasoned stock. We then skinned it and ate it hot with some potatoes and steamed spinach (just like when I was a kid):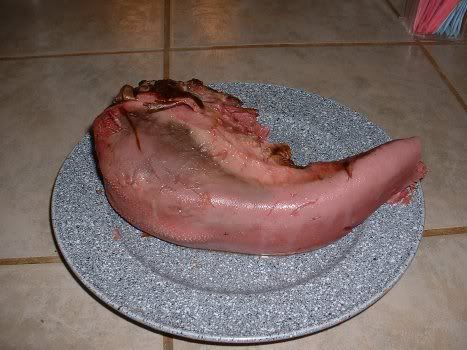 The leftovers were eaten in sandwiches the next day...WONDERFUL!
Final Thoughts/Lessons Learned
The Masterbuilt Smoker is a gem! It is easy to use and I experienced none of the problems that others have reported with earlier versions. The temperature regulation is remarkably constant, and the ease of chip loading makes it stand above other manufacturers products. I agree, however, that the cooking directions in the enclosed documentation need to be scrapped. DO NOT USE MORE THAN A FEW WOOD CHIPS AT ONE TIME! If you use the "1 cup" method described in the Masterbuilt documentation, you can say goodbye to "thin blue smoke".
I also really like the Maverick Model ET-83 Dual-Probe Thermometer. It worked really well on this first use; it still remains to be seen how it holds up to repeated use. This model does not have the remote sensor capabilities that the Model ET-73 has...I'm hoping that this means fewer things to go wrong with it.
The 50/50 mix of hickory and oak chips was a winner! Everybody said that the smoke flavor was strong, but not overpowering. I plan to experiment with other woods like pecan, mesquite, cherry and apple to see if the results are as highly-rated.
Finally, I want to thank everybody on the SMF...this is a wonderful "community" of folks and I would recommend it to any other "newbies" like myself. The amount of knowledge that is availble here is astounding!
I think I'm hooked! On to the next challenge...maybe ribs...or brisket...or maybe pulled pork...
Thanks again!