Greetings, All!
Well, I finally did it...my first smoke is now history and the results far exceeded my expectations!!! I want to extend my heartfelt thanks to everyone on the forums for making this a great experience!
I thought that I would document each step in the process...not just to show off, but to possibly assist other neophyte smokologists. Since this is a rather lengthy post, I've decided to break it up into several smaller ones. This first installment will cover my background, my equipment buying decisions, and the initial "seasoning run".
Though I currently live in Louisiana, I've lived all over the US. Most of my relatives live in the New York City area and my parents grew up there. Being of Irish Catholic upbringing, I learned early on that almost ANYTHING looks good if presented well. So I grew up eating and loving things like liver sausage, steak and kidney pie, and (...wait for it...) smoked beef tongue! When we moved out of the NYC area, it was often difficult to find many of the products that I grew up with. Thus, my interest in home smoking was born.
After doing much research on the internet, I came across this forum. I had decided early in this process that I wanted an electric smoker, so I studied models from Bradley, Cookshack, Brinkmann, and Masterbuilt. I also "lurked" in the background of SMF to get as much info as possible before making my final purchase decision.
A local sporting goods chain (Academy Sports & Outdoors) apparently enters into agreements with other companies to "rebrand" products to be carried in their stores. One day, while browsing the aisles, I came across the "Cajun Injector Electric Smokehouse". This smoker looked suspiciously like a Masterbuilt and, sure enough, the serial number tag on the back showed that this smoker was a Masterbuilt Model 20070106 (the one with all of the improvements). Even better was the fact that this smoker, normally costing $199.99, was on sale for $149.99...and I also had a $20.00 off coupon to add to the mix! So, my decision was easy and I got my $129.99 smoker into the truck ASAP (see photos)!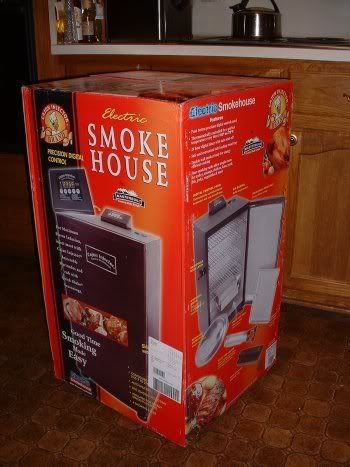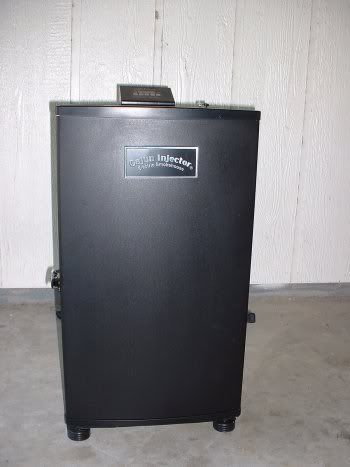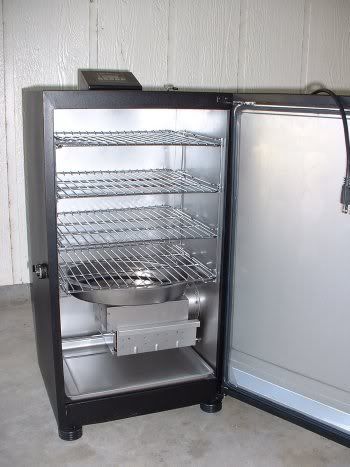 After unpacking and assembling the MES, I wiped everything down with a damp cloth and coated the grill racks with a light coating of PAM. The only tricky part was getting the smoker absolutely level...the leveling legs were a bear to get loosened.
Thanks to Illini, Richtee, DeejayDebi and others here on the Electric Smoker Forum, I learned that a "seasoning run" was recommended before actually smoking anything. So, I set up my new smoker in the carport, brought out the folding chair and portable TV (LSU was playing, of course) and sat back. NOTE: I highly recommend charting the cycling of the heating element and the amount of smoke generated during this first run...it really helped me when I did my first real smoke.
I put about a half-inch of water in the H2O pan and heated the smoker up to 225 degrees (no chips). The strong smell of the "packing gunk" burning off convinced me that this seasoning run was a good idea. After about 1 hour, I added 4 small DRY hickory chips to the chip drawer and dropped them in. Almost immediately, I got SMOKE-SMOKE-SMOKE!!!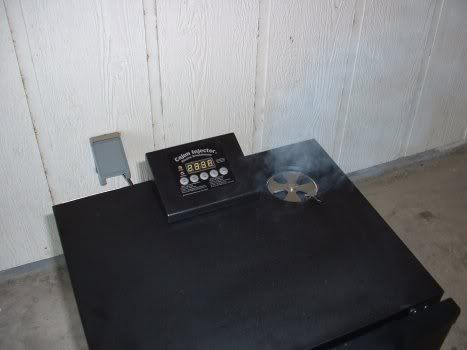 Not exactly the "thin blue smoke" I was looking for! But after some trial and error over the next 4 hours, I found that adding 4 small SOAKED chips along with 2 small DRY chips every 45 minutes gave me a fairly constant, mellow smoke.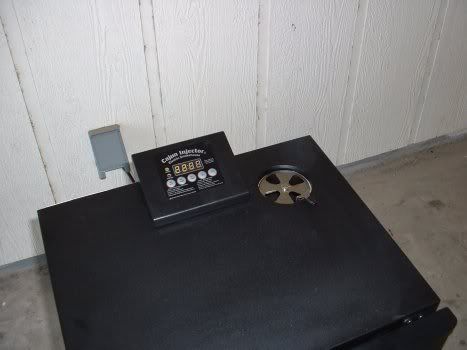 After the trial run, I let everything cool down and I wiped down the interior, paying special attention to the "infamous" door seal. I think I must have gotten a good one because I experienced none of the problems that others have encountered with Masterbuilts. I was also really impressed with how closely the temperature cycled around my chosen temp...maybe 3 or 4 degrees on either side during the entire run.
So that's it for installment one. Next time, I'll go over the prepping of my first smokes...a "Cheater's Pastrami" and a Smoked Beef Tongue.
Thanks for stopping by!