Just sharin' the Q-view from today's smoke. Done my first smoked ribs and finally smoked instead of roasting a butt, thanks to accurate temp readings from the grate level as opposed to the factory in-lid thermo which read WAY low. Anyway, on with the Q-view...
The 9+ lb butt and the bb's all rubbed up and ready to go on the smoker. I slathered in EVOO and used Grill Mates Pork Rub on both.
Heated up my handful of left over ABT's in foil on the fire box. I think they were even better reheated!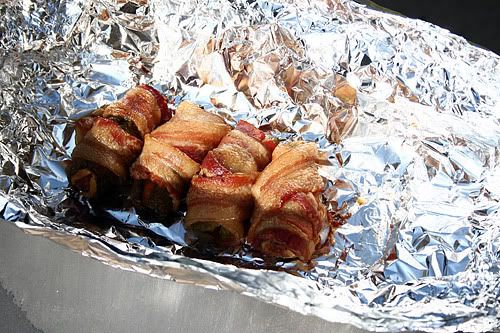 A peek at the meat as I was putting the bb's back on uncovered after their 1.5 hour foil wrap. I used a 2-1.5-.5 version of the 2-1-1 method I had read here for a bit more tenderness. I put 1/4 cup of Dr Pepper in the foil and dusted the top of the ribs with brown sugar for the wrap time... Sure was good to see that the butt was in fact cookin' low and slow rather than fast and hard!
The butt after about 7 hours of smoking. I t was getting close to dark and the wind was picking up making it extremely hard to keep the temp up in the pit so I decided to foil it and finish in the oven. The internal temp was just over 150 so I would have wrapped it about the same time anyway had I left it on the smoker so no smoke lost, just the fun of using the smoker...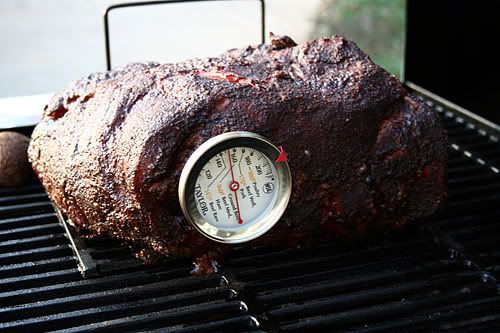 And the bb's just before my wife, my Pop and I tore 'em up. Both Pop and I agreed that we'd never had any better baby backs. These things were awesome! My first smoked, or even fire cooked ribs. Never done ribs before today except in the oven a couple times. Thanks to the info on this site and one other forum they turned out perfect!!!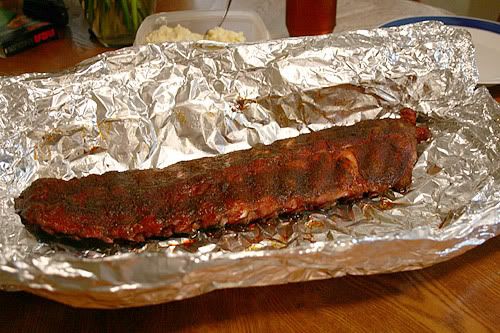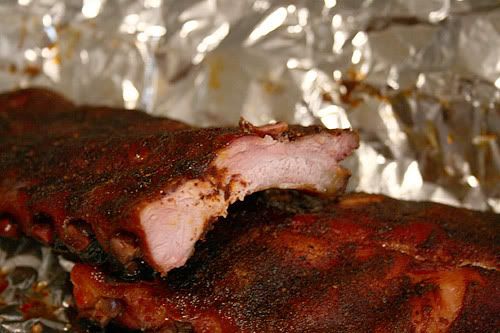 I also tried a baffle in the Char Griller made out of heavy duty foil to deflect the heat that comes in between the end of the upside down fire grate in the cooking chamber and the end of the pit. It has never heated and cooked this even. I checked several places with my probe thermo and all were within a few degrees of each other. Very consistent during the cook, too. Now if it were only about three times bigger and made of thicker steel!!!