Had a lot of helpful info in another thread  before I fired up my new smoker yesterday for the first smoke:
Total newbie here and the more I learn about this smoking stuff the more I realize that there is a ton of info out there. Feel like I rode the short buss into this cooking method.

Picked up a Masterbuilt 30" electric smoker with blue tooth this past weekend as it was a tax free weekend here in Taxachusetts. Seasoned the unit yeasterday per instrucrtions. Went to Costco and picked up ten pounds of St. Louis ribs with whatever rub Costco uses. Looks heavy on the paprika, salt and pepper but I really have no idea what the rub is. Just didn't have time to research rubs and such and wanted to get going with the smoker.

Findings so far:

1. The range on the blue tooth is around 24'. I still have to go and open a door to get close enough for the blue tooth app to work from my phone. Don't bother with this until they improve the range. I know they make a similar smoker with a remote but don't know what the range on that is. Blue tooth is a good selling point but they are deceptive about how it works. I may be bring mine back because of this. If I have to walk out in the garage to get the phone to work remotely then I can easily walk out the garage door to the smoker....it's 7 steps.

2. The window in the unit is worthless once the smoke starts. It's like looking through mud and becomes almost totally blocked after a couple of hours. Don't bother with a window if you buy one.

3. The temp seems to hold very well and varies approximately +8 to -10 degrees. It depends on how far I open the vent in the top of the smoker.

2. Wood chip load seems a little small. I had to load chips three times during the first two hours. I stopped after two hours with the chips because I read on several sites that after two hours of smoke your meat has absorbed about all the smoke flavor it is going to absorb and may become bitter after that. Maybe they are just blowing smoke but that is what I read. Time will tell. Oh yea...I just used apple wood chips because that is all I had besides mesquite chips but I read on some forums to stay away for heavily mesquite smoking. 

So at 10:00 this AM I took the ribs out of the fridge and set them on a platter to come up to room temp: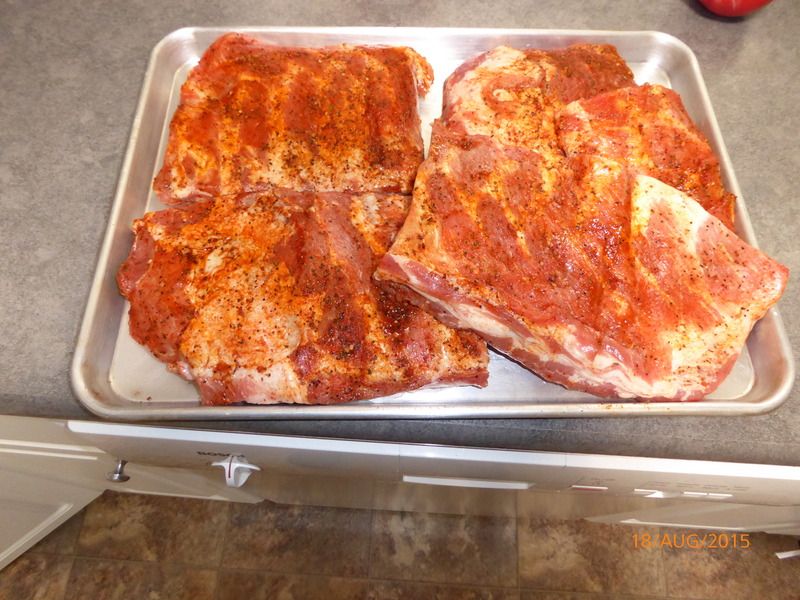 Also filled the water dish (not sure if I should check this but I don't want to open up the smoker) and started up the smoker and set it to 230 degrees. At 11:00 I loaded the meat into the smoker and set the time for 6 hours. Put chips in for smoke the first two hours. I hope my timing is right. 6 hours for St. Louis style ribs seems to be the norm for the information that I could find.

So anyway "SMOKEY" ( real original name right?) is setting outside the garage, holding the temp real well, and doing it's thing with no help from me. I intend to check the ribs after 5.5 hours to see if done and may slather a little Jack Daniels BBG sauce on a couple of pieces. Not sure what I am going to/should do yet.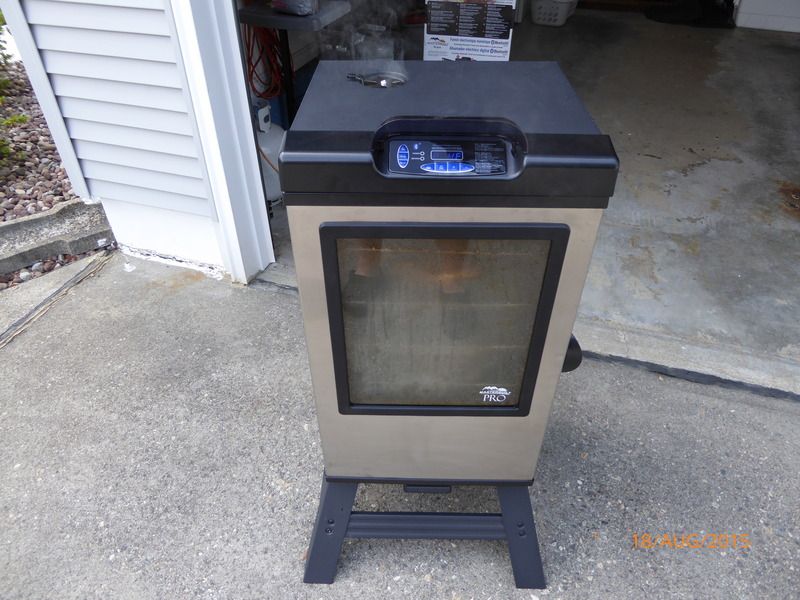 I think they turned out great. Like I said above, smoker set for 6 hours at 230 debgrees. Apple wood smoke for the first two hours and nothing after that. Opened the smoker up after 5 hours and slathered some Jack Daniels BBQ sauce on a couple of pieces to see how the sauce would change the taste. I could see that he meat had already pulled away from the bones about 3/8", a sign that I read showed they were done. Shut her back up for another hour. After a total of 6 hours in the smoker I took them out. Looked and tasted great. I thinking in the future that I would like a little more sweetness, just a little. I don't know what Costco put on for their rub but it flavored the meat and tasted just fine.

The wife and I were in such a hurry to try them out I forgot to take a picture of the platter loaded with all the ribs. 


The wife and I were is such a hurry to try them I forgot to take a picture of the platter loaded with all the ribs.

This is what remained after we were done eating....we ate a lot!




Anyway I am real happy how these turned out for my first shot at smoking. Have to do some more investigation about rubs, mustard rubs and the like. I'm thinking that tomorrow I may just shoot for a pork butt to see what that is all about.

For the smoker...window is useless. For the blue tooth the range sucks and it seems to lose contact with the smoker around 24' which I call useless and may be bringing the smoker back for that reason. Smoker held temp real well although at times response to reheat heat seemed a little slow.

I would say after this first time....I'm hooked!