OK guys... I've done some reading here on the forum, ran my new LP smoker through the paces to burn off whatever manufacturing crap may have been on the walls.  I discovered that the doors on my smoker could use a little help (leaking out smoke), so I ordered and installed high temp door seal, and so am ready for my first cook.  This Saturday is the day! 
I wanted to run this past the group just to build some confidence, and I have three questions for you all... 
MENU:
Jalepeno poppers 
Phattie (low-fat version of a fattie, something I had never heard of before joining this group!)
Pulled Pork--trying for about 7-9 lbs.
Baked Beans
Corn Bread
Some sort of veggie (my weakness)
The Cook Times & Temps:
Plan to cook the Phattie for 2-3 hours until internal temp = 165
Plan to cook the Boston Butt for 1.5h per lb until internal temp = 195
Plan to cook the poppers for ?? amount of time (question 2 below)
Plan to cook EVERYTHING at about 225 degrees if I can keep the smoker steady
Wood:
I have a few mixed bags left over from several years ago... some small chips of different flavors, but I've set aside apple wood chips  (only because it's about the right quantity) and I am soaking chunks of hickory in water as of last night.  I will dig into other bags of wood chips as needed...  so it'll be a mix-mash of diff woods.  
My Equipment:
I'm using a new LP Smoke Hollow smoker that I rec'd for Christmas from my wonderful wife.  I picked out this model mainly because of the two doors and two burners.  I felt like this model would enable better temp control (can use one or both burners) and steady temp (don't have to open the meat door to adjust wood and water).  It's also a beast, so I can cook a lot!  Here's a pix (from Sam's Club)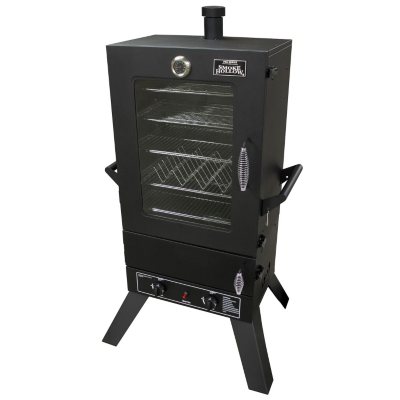 I also have a digital thermometer that has a meat probe and a smoker/environment probe.  I have a second one of these on order too so that I can monitor the two meats.   I will be using one of these "air" probes to monitor the internal smoker temp, as I don't trust the temp sensor that came with the smoker.  (It did not match an oven thermometer that I used for my test smoke.)
FIRST QUESTION:  CAN I USE THE SECOND "air" probe to measure meat too? Or is that ONLY for open-air use??  I don't think I'll need two air probes in the smoker, and would rather use one of them in the pulled pork so that I have two measurements of that meat (just to verify).
Mechanics of the cook:
Dinner time is... when the food is done!  But hoping for around 5PM
Some night this week, I will roll up the Phattie and do the bacon weave thing, then refrigerate it wrapped up in saran wrap.  
I have a rub that I've used for pulled pork a long time ago involving mustard coating first, followed by generous application of rub.  I will do that Friday night after the kids go to bed.  
EARLY Saturday morning (4 AM ish) I will start the smoker up and put in the Boston butt near the middle of the smoker.  This will have one of my meat probes in it, and depending on your thoughts to my first question above, possibly one of the "air" probes too.
Around 2PM--Phattie goes in with a second meat probe. 
Around 4PM--Poppers go in.  (
 SECOND QUESTION:  How long does it usually take for some poppers to cook up?  I'm going simple here, with jalapeno pepper halves filled with cream cheese and wrapped in turkey bacon.  
THIRD--and MOST IMPORTANT QUESTION:  Do I have a good plan here?!  ARE THERE ANY CHANGES that you would make??  
Much appreciated folks!  I'll shoot some pix throughout the process to share with the group.