Lousy picture, I know. One with a flash the other no flash.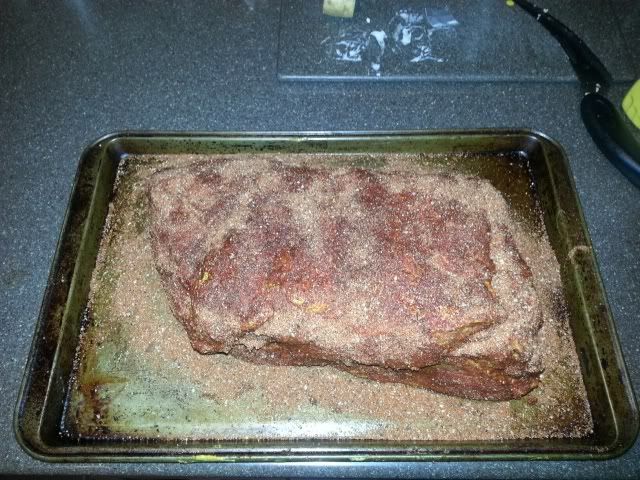 So I am doing a butt for today for the Notre Dame Fighting Irish vs Michigan tomorrow. I was afraid i couldn't time it out right, being that it is my first try at one so I am doing it today and will reheat it for everyone tomorrow. "Hopefully" that is.
I prepped the smoker at 3:45am and my maverick ET732 was reading 235 by 4:15. I pulled the butt out of the refrigerator at 4:15am, rubbed it with mustard and Jeff's rub. It was on the smoker at 4:30. I have my smoker thermometer and meat thermometer set on the same rack as the butt. The thermometer was probably 5-6" away form the butt and at the back of the rack. For what ever reason my meat probe was reading 15 degrees less that my chamber probe. I didn't let that bother me because I thought it had something to do with it being stuck through a small potato and the chamber one on a clip.
Anyway after 3hrs and 45min the difference in the two started bugging me so I pulled the potato off and moved both probed toward the middle and right next to the butt. At that point the temps were reading the same but only reading 180 degrees. Only thing I can think is somehow the heat was running up the back of my chamber which gave me a higher reading.
So now I'm worried about the butt getting contaminated. At 4hrs into the smoke I decided to probe the meat and it only read 100 degrees. Isn't it supposed to be up to 140 before four hours or I'm risking food born illness???
I read a bunch of stuff about inserting the meat probe to soon and pushing bacteria into the meat but it had already been on the smoker for 4hrs. But the temp might have only been 180-190 in there. I just can't figure out if I made a mistake of if I should smoke on.
Any help would be appreciated. If you need anymore details, please ask. I may have left something out because I'm frantically typing over here.
Oh and it has been on the smoker now at 250 from the 3hr and 45min mark until the 4 and a half hour mark and the IT is now 120.
So quick recap. Meat out of fridge 15 min then into a 180-190 degree smoker for 3hr 45 min. IT was 100 at the 4hr mark when I inserted the probe. Now IT is 120 at 4hr 30min mark. Am I ok or in trouble??????
Thanks.
Go IRISH.