So, I had absolutely no need for a new grill, but my sister had the opposite opinion.  She felt that I did not have enough surface area on my Weber (made the decision when she saw me trying to cook for my sons second birthday party).  I only cook large quantities maybe twice a year.  Anyway, she bought me this grill: 
http://www.samsclub.com/sams/shop/product.jsp?productId=prod1250116&navAction=push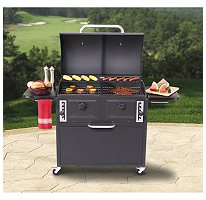 It seems like a solid charcoal grill that could be used for smoking by itself, or with a couple of mods. 
Does anyone have experiences with this grill?