Morton's Recipe for Pepperoni

From http://www.mortonsalt.com/reci...peDetail.aspx?RID=46

Prep Time: 20 Minutes (Refrigerate Overnight)
Servings: 1 pound

--------------------------------------------------------------------------------

Ingredients:

1 pound lean ground beef
1-1/2 level teaspoons Morton® Tender Quick® mix or Morton® Sugar Cure® (plain)
1 teaspoon liquid smoke
3/4 teaspoon freshly ground black pepper
1/2 teaspoon mustard seed
1/2 teaspoon fennel seed, slightly crushed
1/4 teaspoon crushed red pepper
1/4 teaspoon anise seed
1/4 teaspoon garlic powder

--------------------------------------------------------------------------------

Directions

Combine all ingredients, mixing until thoroughly blended. Divide mixture in half. Shape each half into slender roll about 1-1/2 inch in diameter. Wrap in plastic or foil. Refrigerate overnight. Unwrap rolls and place on broiler pan.

Bake at 325°F until a meat thermometer inserted in the center of a roll reads 160°F, 50 to 60 minutes. Store wrapped in refrigerator. Use within 3 to 5 days or freeze for later use. If Morton Meat Curing products are not available at your local grocery store, the products can be ordered throught the Morton Salt online store.

--------------------------------------------------------------------------------

Ron's notes: With this recipe, I notice on one hand that we're not dealing with the fermenting, cases, and temperature controls normally involved with pepperoni - but on the other hand, the flavours involved are just right, and it is my belief that this method is just right for someone who is just starting out in charcuterie or someone who might not have access to all the specialized equipment or ingredients.

Here's how it went down when I attempted this with ground venison last year. I apologize in advance for the (lack of) quality of some of the pictures. My camera at the time sucked. There's no polite way to say it, and I'm an 80's kid, so I'll simply say that it sucked. The flash washed out a few times and the colour was off on a few, but the pix will be adequate for you to get the idea, hopefully.

Here's the stuff needed for a triple batch, less the ground venison:




Tenderquick, oatmeal (for binding), garlic powder, fennel seed, anise seed, mustard seed, crushed red pepper flakes, black pepper and beer (for binding). Pretty simple stuff.

Recipe note: The recipe calls for liquid smoke, but since I was going to smoke this pepperoni in my Little Chief smoker, I omitted it.

A note on binding: Because I used 100% ground venison that was 100% fat-free, I chose to try a binding agent consisting of ground oatmeal, with some beer to provide moisture for the oatmeal (water would work just as well). A binding agent was not totally necessary, since I have made a similar venison bologna with venison that had no binder, and it turned out just fine, albeit a bit crumbly. The oatmeal/beer binder worked quite well, and I recommend it for anyone wanting a natural, easy-to-find substitute for the fat and binding agents found in a lot of ground, cured meats. One-quarter-cup of ground oatmeal and an equal amount of beer per pound of meat seems to work just about right.


The thought of a cured specialty such as pepperoni might be complicated or even intimidating, but it really doesn't have to be. First, I added the recommended amount of tenderquick to the ground deer meat:




Morton recommends 1.5 teaspoons of cure per pound of ground or thinly-sliced meat, so I used 4.5 teaspoons for three pounds of venison.

Next comes the rest of the seasonings and spices - the mustard seed:




Fennel seed and anise seed, crushed with the handle of a knife:




Black pepper, garlic powder and crushed red pepper flakes: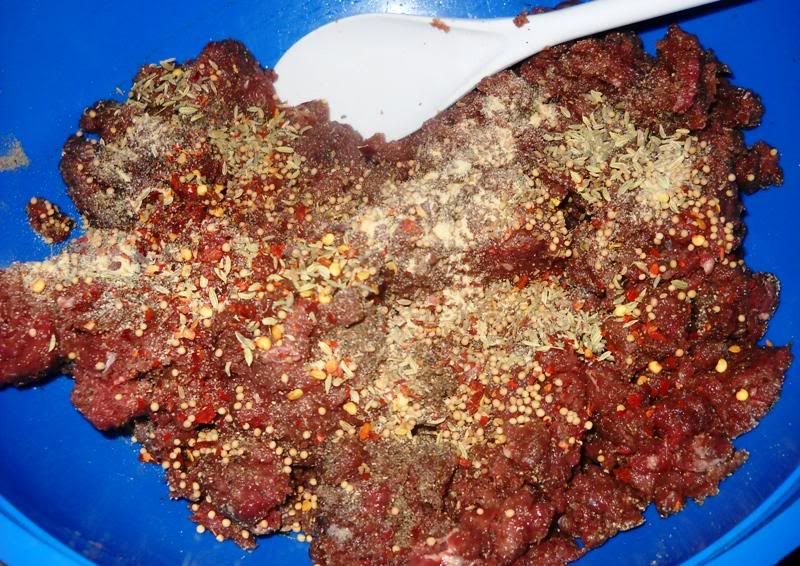 Then I mixed everything well, to distribute the spices and the cure as thoroughly as possible, and prepared to try my oatmeal binding experiment. I don't recall exactly how much i used, but judging by the picture below:




I am figuring about a quarter-cup per pound, since the capacity of the food processror is 1 cup. I then gave the oatmeal a hearty whirl around in the food processor, until it was thoroughly pulverised:




Next, I added half the bottle of beer to the meat mixture (figuring one quarter-cup per pound of meat):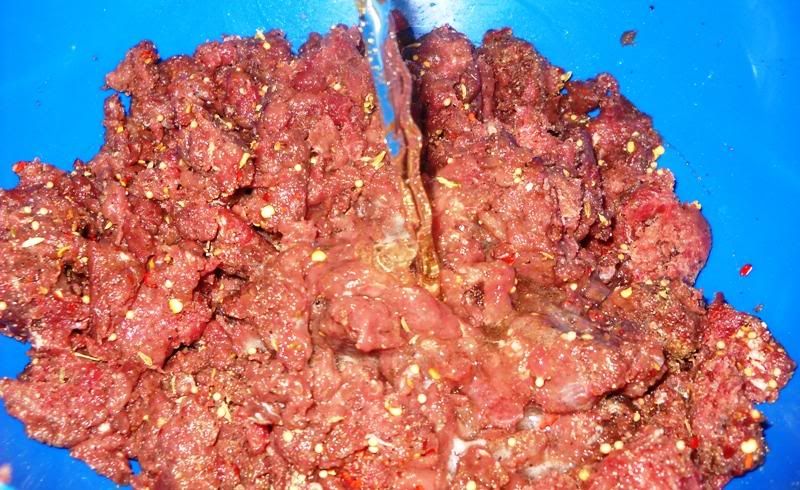 And then added the oatmeal:




After stirring the mixture around to get everything incorporated well, I divided the venison into half-pound portions and shaped them into six rolls, about 2 inches in diameter. Then I wrapped the rolls tightly in saran wrap: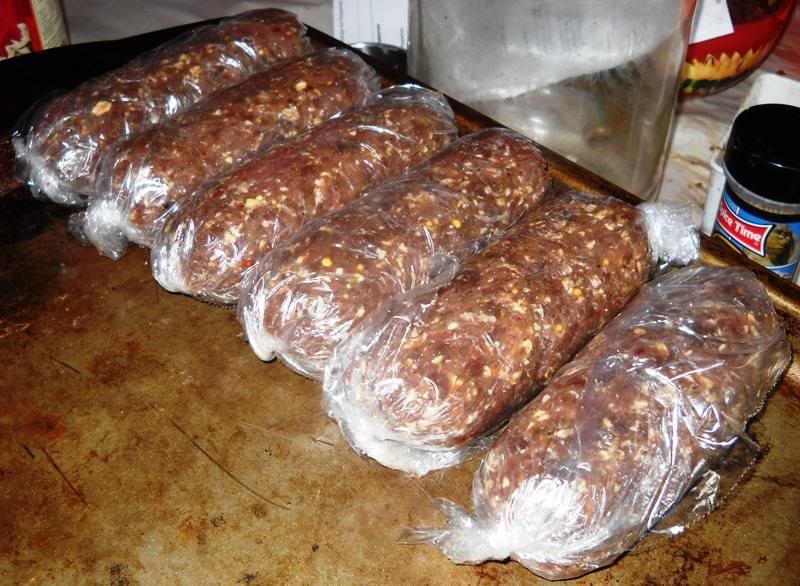 The rolls are actually a little larger in diameter than they should be, but they were about right for what I wanted. "Proper" rolls would have been longer and smaller in diameter. The white specks from the oatmeal loked pretty good mixed in the meat, which was already starting to smell just like you would expect pepperoni to smell, and I was thinking that I had a pretty good thing going here.

I put the rolls in the refrigerator overnight to chill, bind and set up while the tenderquick worked its curing magic. The next morning I put the rolls on the racks for my smoker:




And let them develop a bit of a pellicle while I set up my smoker and brought it up to "cruising temperature:"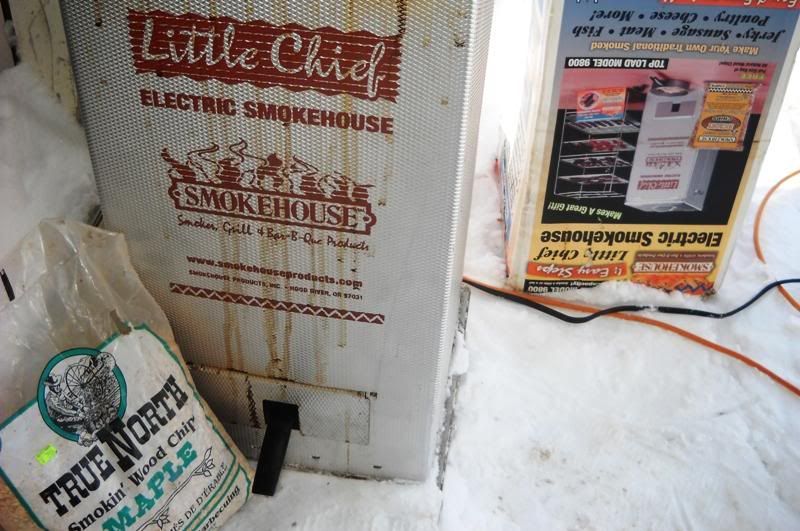 The Little Chief electric smokehouse is perfect for this type of thing. It's not meant for smoke-cooking, since it doesn't get up to real cooking temperatures for large hunks of meat; however, it does wonders for cooler smoking and is perfect for things such as jerky, sausages, snack sticks, nuts and other such things.

As you can see in the picture above, I used maple wood chips for this project. Here's a closer shot of them in the pan: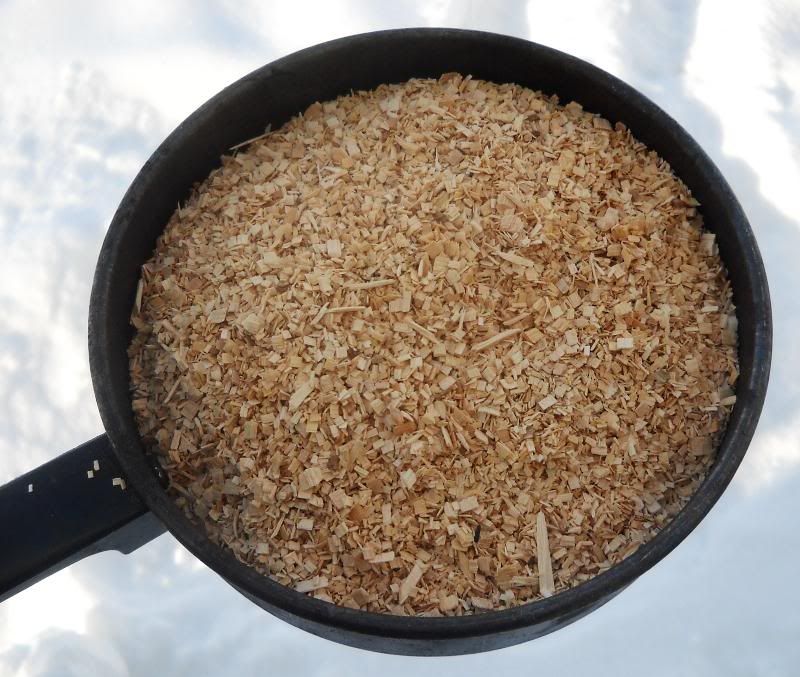 Note to anyone reading this: If you know where I can get a supply of these wood chips, please let me know, as they were the best I've ever used, and I don't know where to get anymore!

The outside temperature that day was well below zero, which of course dramatically affected the aforementioned "cruising temperature." I know that the internal temperature of the venison would never reach 160. Luckily, the wind wasn't blowing, but nevertheless, it was still pretty darned cold. With this in mind, I simply smoked the pepperoni for a couple-three hours, using 3 or 4 pans of chips, then put the racks in a 325-degree oven until they reached temperature. Then I took them out:





And immediately plunged them into a bowl of very cold water: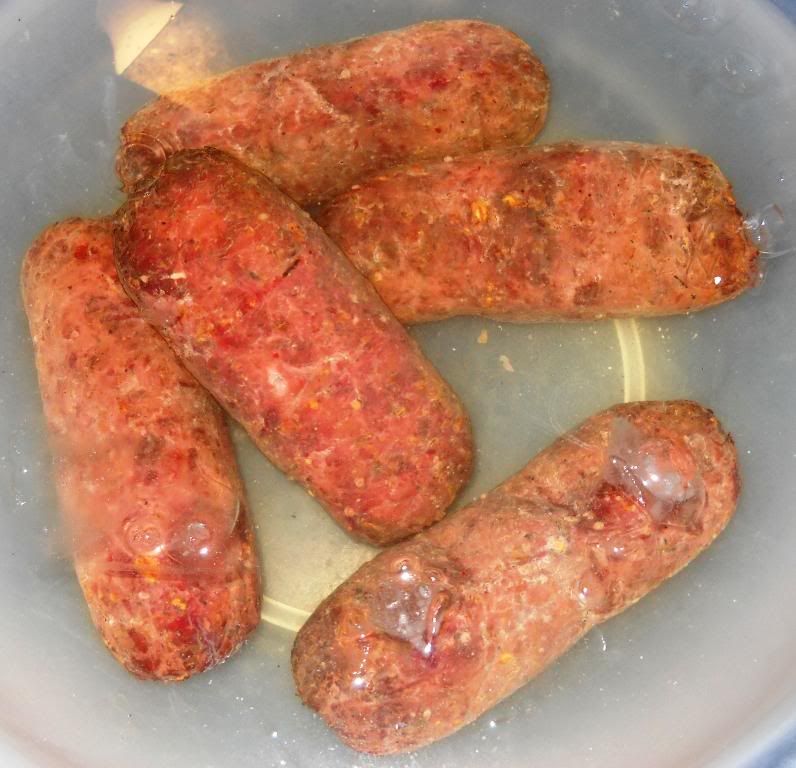 It looks like a few bits sloughed off, but that's ok - we had some good stuff going here! They also look a little distorted in the water, but who's keeping track?

I kept them in the ice-cold water for about half an hour; believe it or not, we didn't have any ice in the house at the time, but no worries - I simply put the bowl out in the shed to keep cold...very cold. Then I wrapped them in saran wrap after drying them off and put them in the refrigerator overnight to let them rest.

The next day, I was eager to try this, so I took a roll and sliced it up: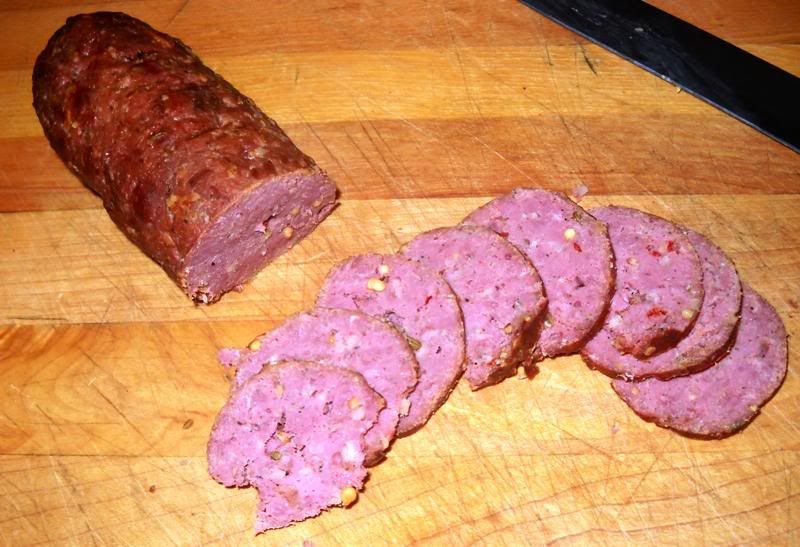 Note: It wasn't really THIS pink - what you see is bad photography from a cheap camera! And the ragged-looking slices are more my fault than anything else; the oatmeal binder actually worked pretty darn well, and I will be using it again.

Anyway, I arranged the slices on a platter:




Added some cheese and crackers, and gave it a try.

Results were very good, and I will be making this again, most likely within a couple of months. The flavours of pepperoni were definitely all there, and i really enjoyed it. I will admit that it was missing the tangy, fermented quality of "proper" pepperoni, but as I said above, this is a very good alternative for those who do not have access to specialised ingredients or equipment.

Thanks for looking, and please let me know how you like it if you give it a try.
Edited by TasunkaWitko - 12/25/11 at 2:48pm