Well folks another year has passed, and another bout of sausage fever has set in. while like to see everyone use their wild game to its best potential, there will still be some trimmings left over to feed the sausage making addiction.
First things first, got game... need pig. so got pig.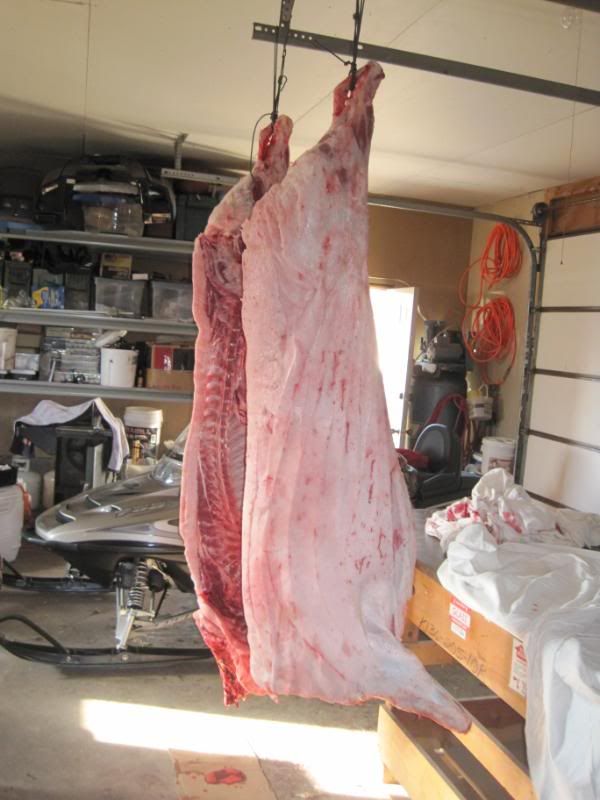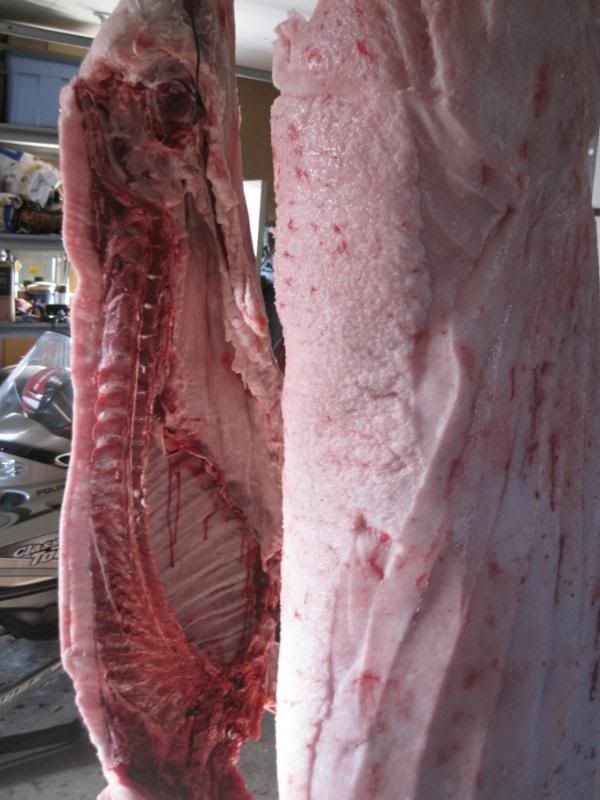 got some chops cut... these are trimmed already of some backfat.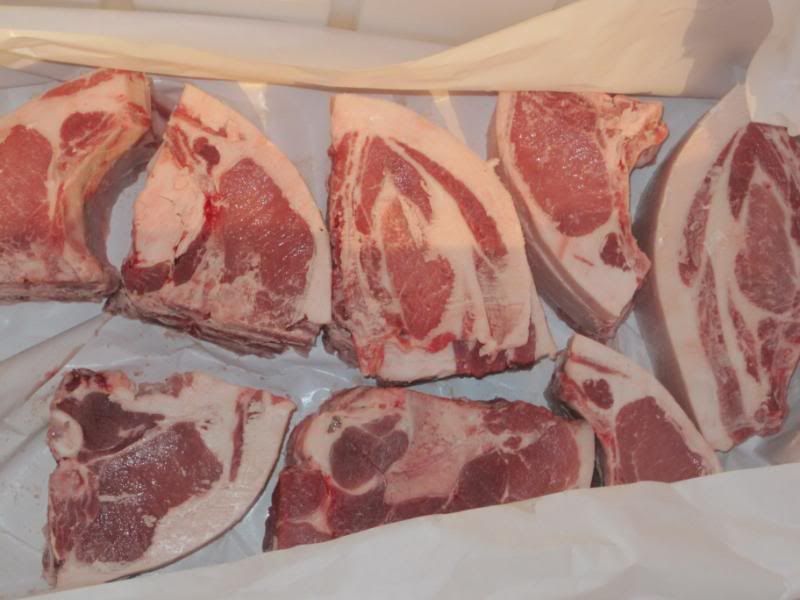 this is the backfat off them chops, i can hear already where you get a hog with fat like that on it... found a new supplier of pig this year. old feller still raises hogs like me dad and gramps did...
a belly looking to be squared and get ready for the cure...
this picture is totally set up as you can see. i didnt get any pics of the grinding and had to get a pic or two of the old enterprise power grinder. i still have yet to see another like this. is a #32 and has an electric motor which drives a jackshaft to gear it down, one part is belt drive, other is chain drive. looks to be all original and when my dad bought it, was older than dirt way back then...
shown in the pic is the grind, left is the regular trimmings, rt is better trimmings, out of the grinder is lard-that goes to mom for the rendering. not shown is the extra special lean pork trimmings grind. no visible fat. i use some of that in my elk/venison stix.
older than osha eh... could make a mess outta your hand... but is one mean grinder. anyone has one like this pm me if they have any info age etc...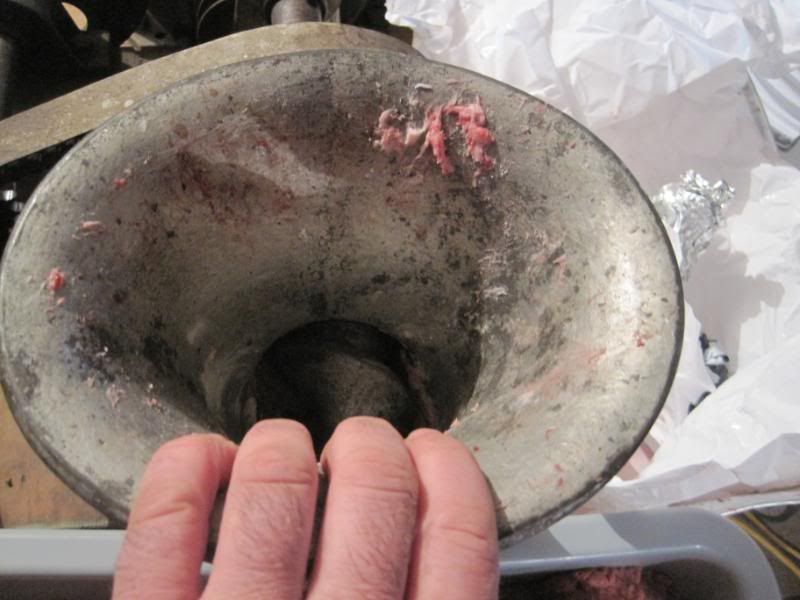 i need to have a plan when doing a multi-sausage fest like this... ihave a piece of freezer paper like this from every year since i started doing this and jot notes as i go. making changes and improvements as i go. this year my goal was to increase the juciness of my sausages, using highly trimmed venison having next to no fat of its own called for special measures. as things in the past were always good, got where want with spices etc. the one thing which always eluded me and alot of others i think was making a nice juicy bologna or wiener... Danmcg is doing eyeroll rite now i am sure...:bounce: the plan with mods from last year in place...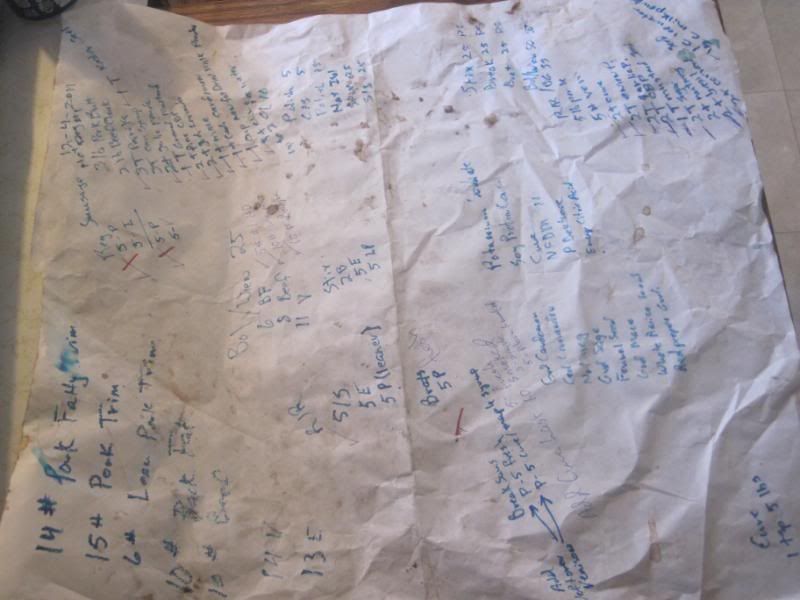 meat is all preweighed, so spices are all set up as well...
casings... went back to my local...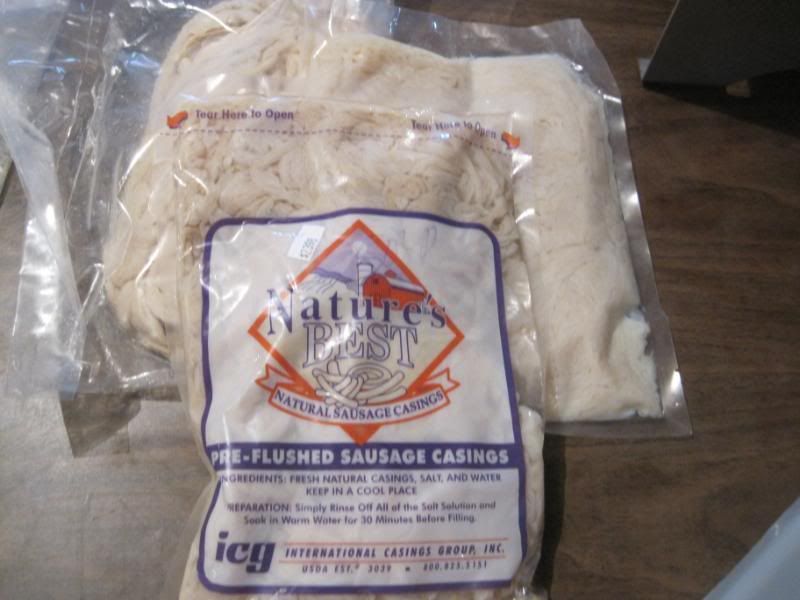 hog, beef, sheep, l to rt, shoulda put the s/s casings in pic but forgot...
the smokers, the old forgotten GOSM, and the hardly used MES...
used an electric element in the GOSM. basically used it as the smoking chamber and the MES as the finishing chamber. exception would be for the wieners, gave them what smoke i wanted and finished in a stock pot of hot water on the stove. worked super!
first up is a 5lb batch of fresh breakfast sausage... here in mixer. had in coolers in gargage to keep from freezing. dang stuff was ice cold...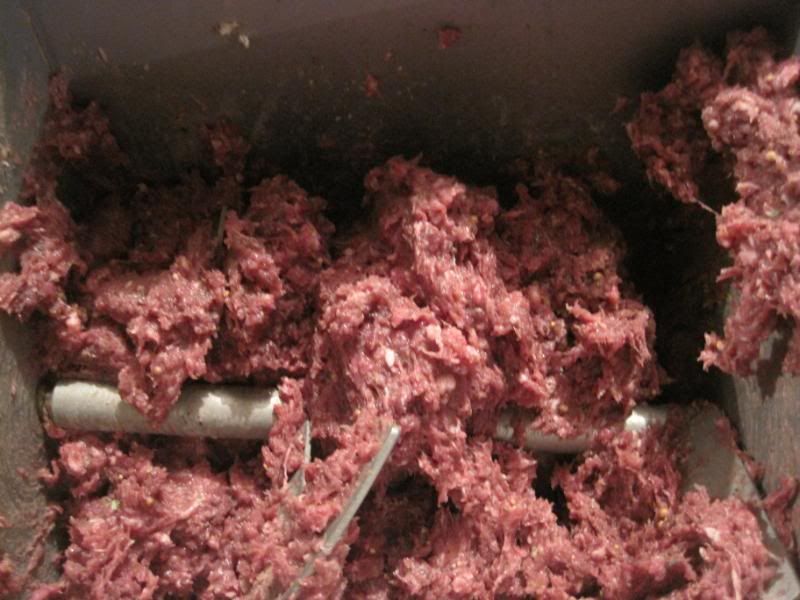 here some breakfast with cure to smoke.
love me new stuffer... when it gets to the mt mark...
this is what is left inside, maybe tennis ball size leftover. actually i like a little bulk for patties so i stopped a bit early on some. but it prettywell emptys it out. to the point where when i was done i would get the next batch in and start pressing it out and when the color changed in the casing thats where i would cut it or tie it off. unless i was saving some bulk i wouldnt even scoop out the remainder.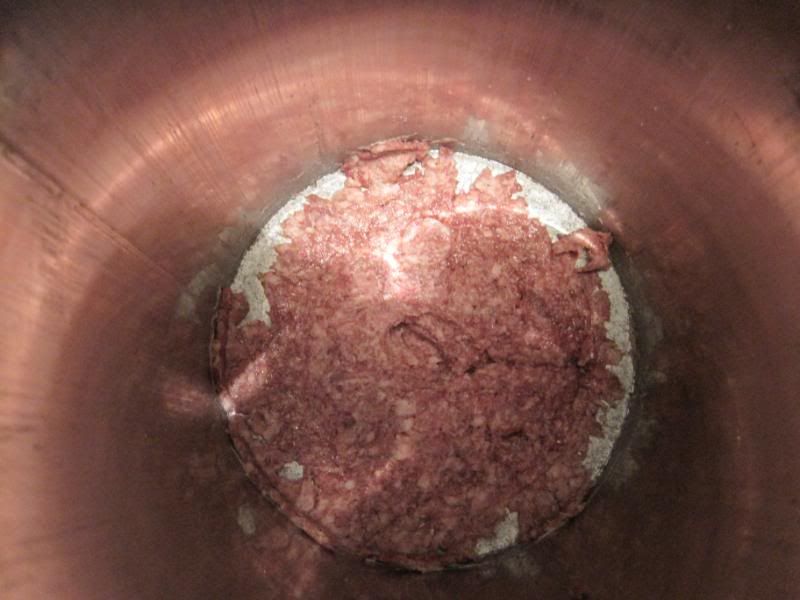 linked up.
also made 5 lbs with some of the maple syrup i made this spring.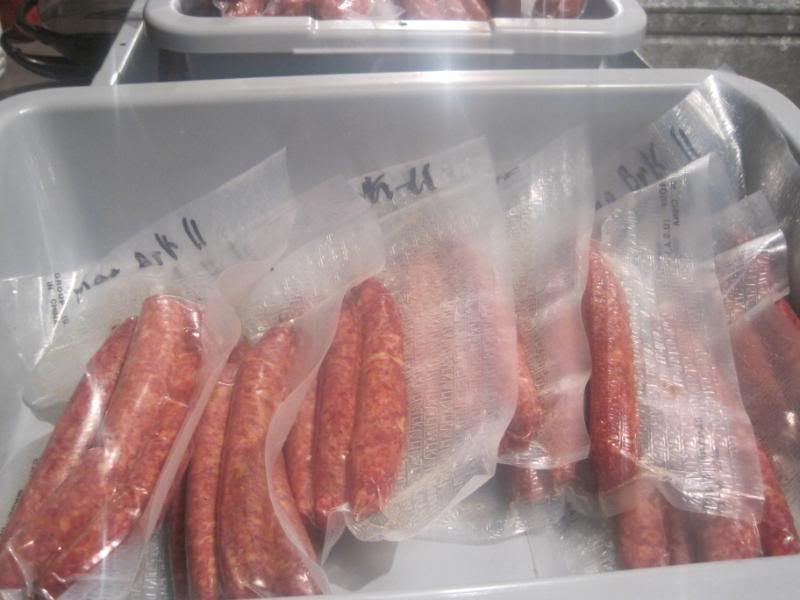 this is what i had for breakfast this morning, french toast with maple breakfast sausage. home made maple syrup on the toast and in the sausage.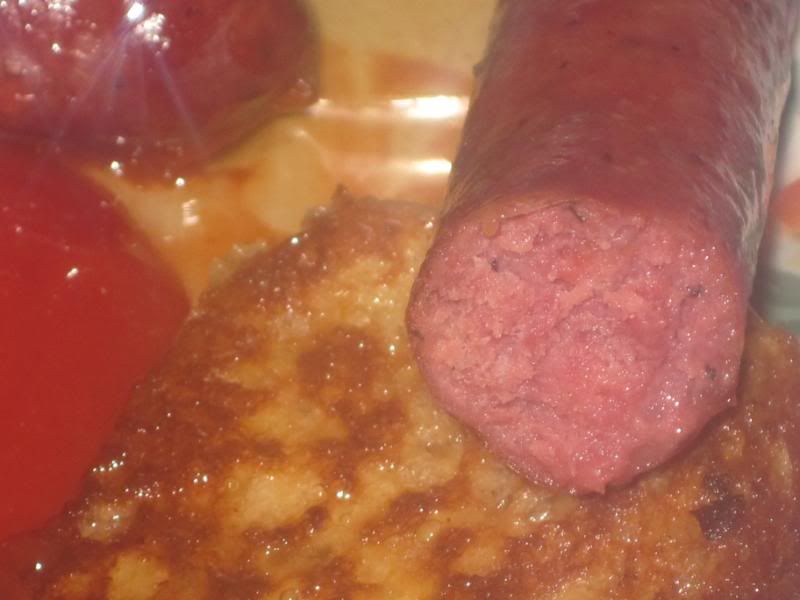 elk stix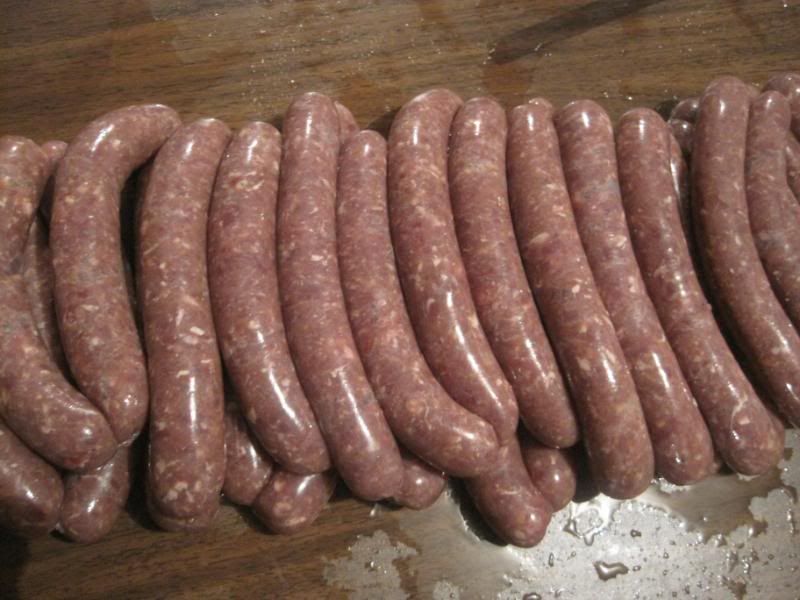 polish, elk and deer.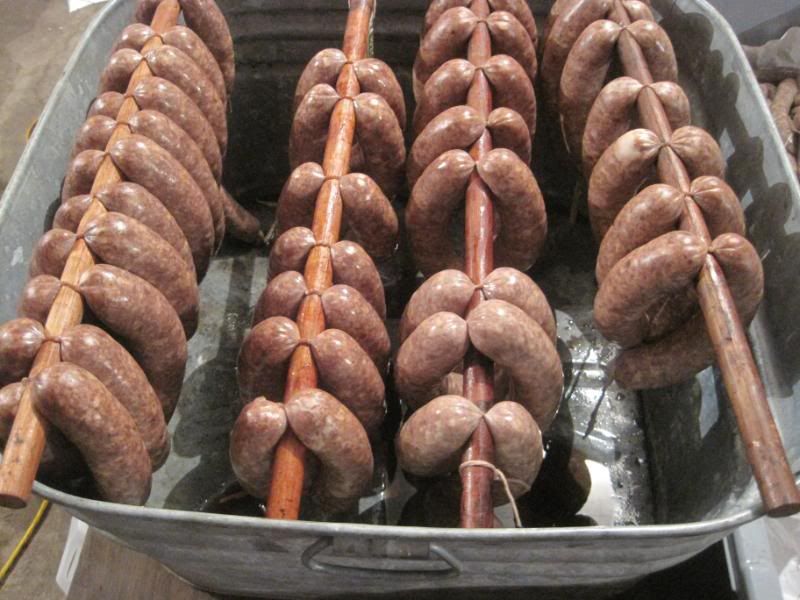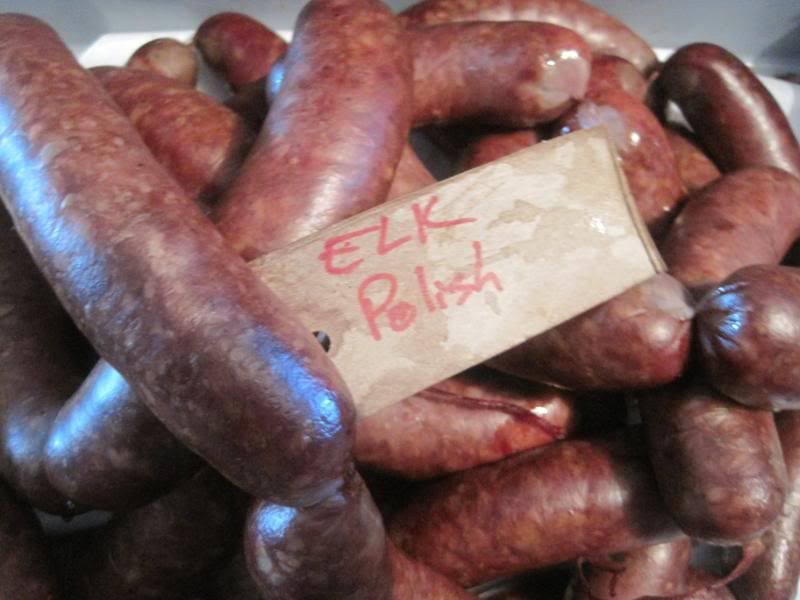 venison ring bologna, should a got some pics of stuffing and tying these but...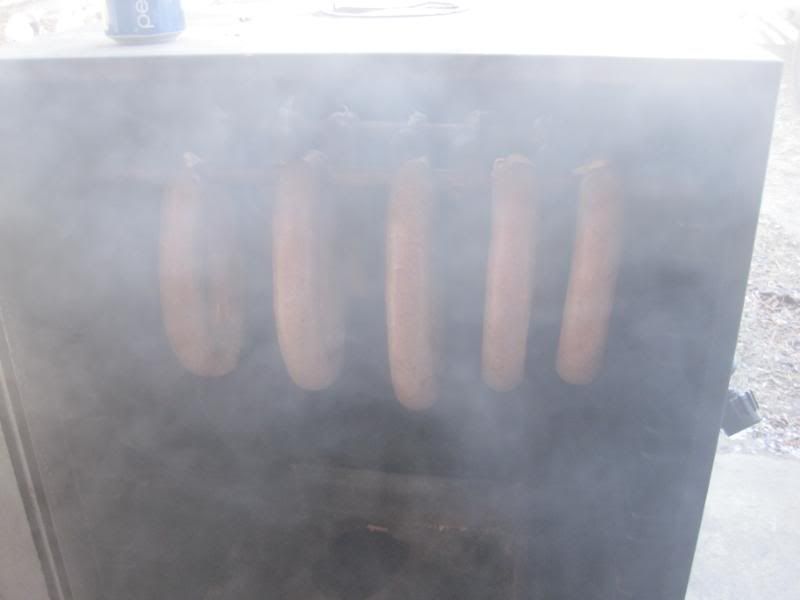 summer sausage, seen Rowdy Ray's post with Big Guy's recipie so gave that a shot... i copied it down and forgot the salt so when i was mixing it i thought hmmm, there should be some salt, i couldnt reference because my internet was down so i guessed using another recipie i had and it should have had a cupla more Tablespoons of salt in the batch but still tastes ok, shoot better than ok... thks RR & BG...
i get these long s/s casings from my local, 36"... so what i do is stuff a chub and tie it off in a usable sized length. then about an inch further tie off again. stuff another, etc you get the drift... gives you nice dia. chubs and a usable size as well as a gift size.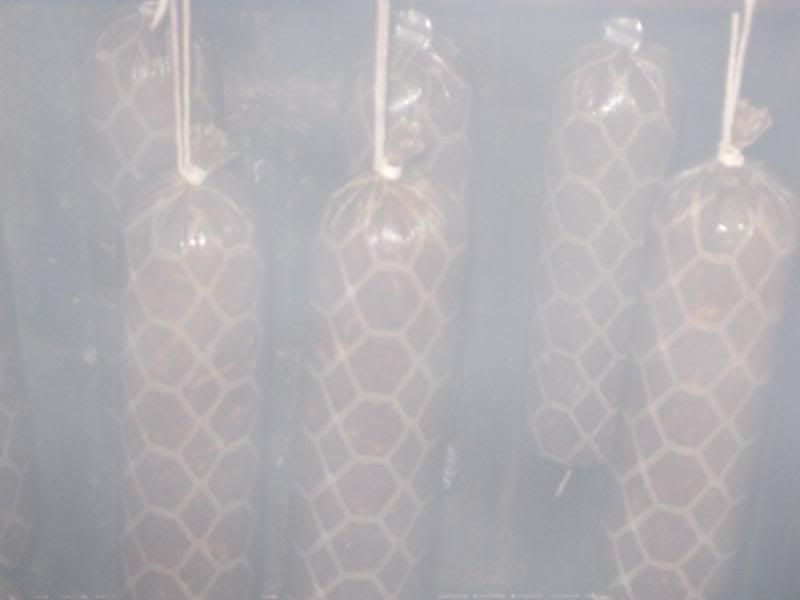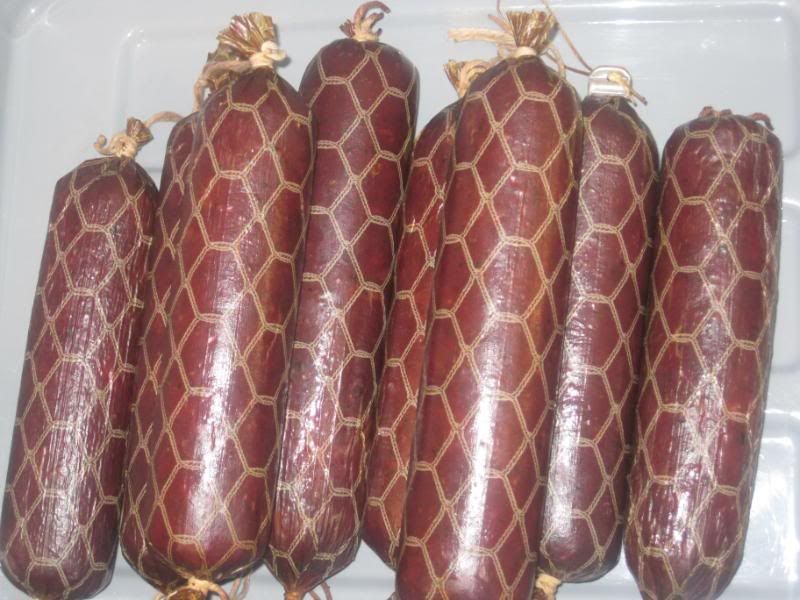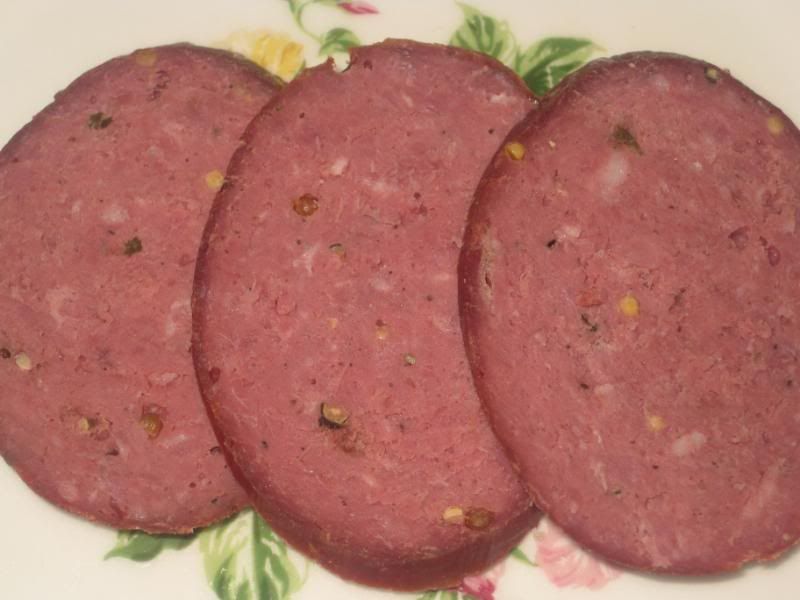 last but not least, hot dogs...
pole of wieners ready for smoker, i also upped the backfat ratio in this recipie as well. i actually use the same meat mix for hot dogs as the bologna.
smoked vs unsmoked... just a temporary condition i assure you...
a trial batch, venison #1 i call it... homemixed.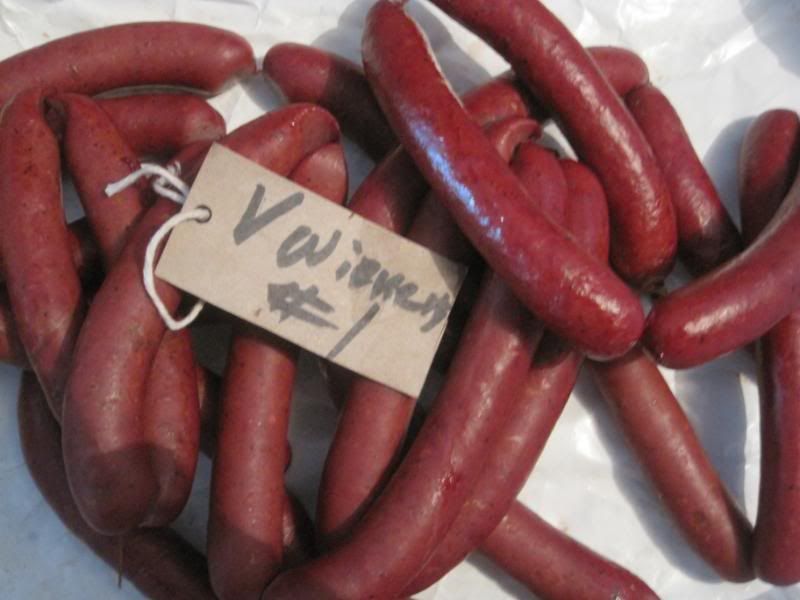 some with spices from local SJMM...
hmmm what to do with them 2 extra links... microwave works great on them. by the way these were finish cooked in a canner of water on the stove, the water was at 170 and i would put in about 20 links at a shot and after a bit mix them up a bit and insert thermo in a link and wait til they hit 152 deg. then pull and had the sinks full of ice water and immediatly cool them down.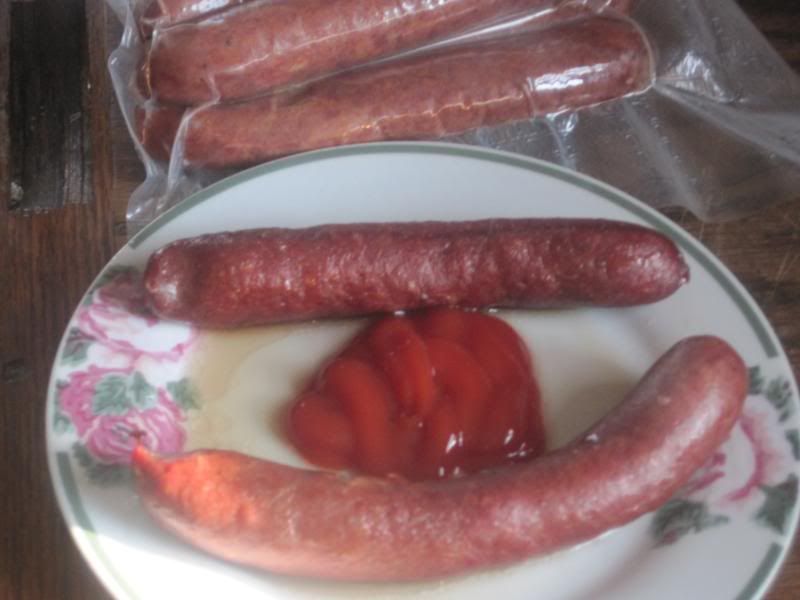 i guess i will end this soak of bandwidth by finally giving something its due respect. everything you see in this thread was smoked with an Amazin Smoker, these are built and sold by fellow member TJohnson. Todd was so kind as to send me a prototype to try out before he introduced them to the market. yup just sent it to me along with the sawdust to use in it, just for my opinion. i did do a small post on it once but never really posted anything i have done with it... personally i think it is impressive. in the meanwhile Todd also sent me an AMZPS to try. so it worked out great for me, 2 smokers, 2 amzin smokers!!! heck i had it made. by the way Todd, love that 732!!! there was never anything out there that did truly beat the et73, well maverick improved there own product. anyone looking for a thermo ck out the Maverick 732...
here is the sawdust model, lit from both ends...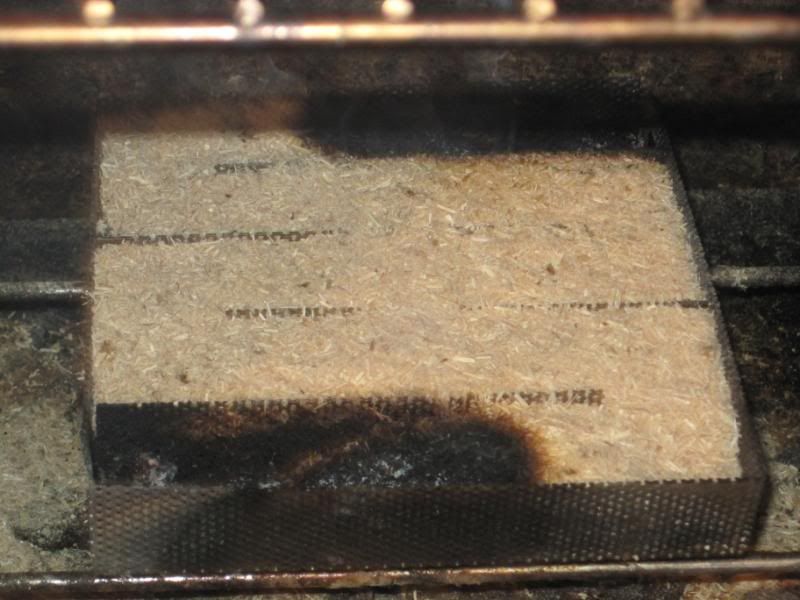 and here is the pellet model... to be honest i didnt give the pellet a true test. i was having a bit of a time getting the pellets to light so i mixed some sawdust with. in the one pic i just lit the sawdust in the center instead of both ends and put the pellets on top.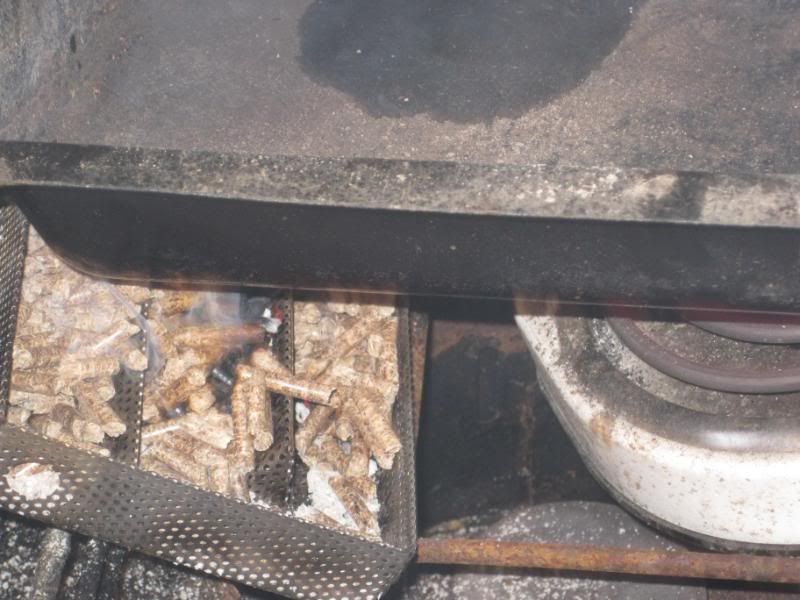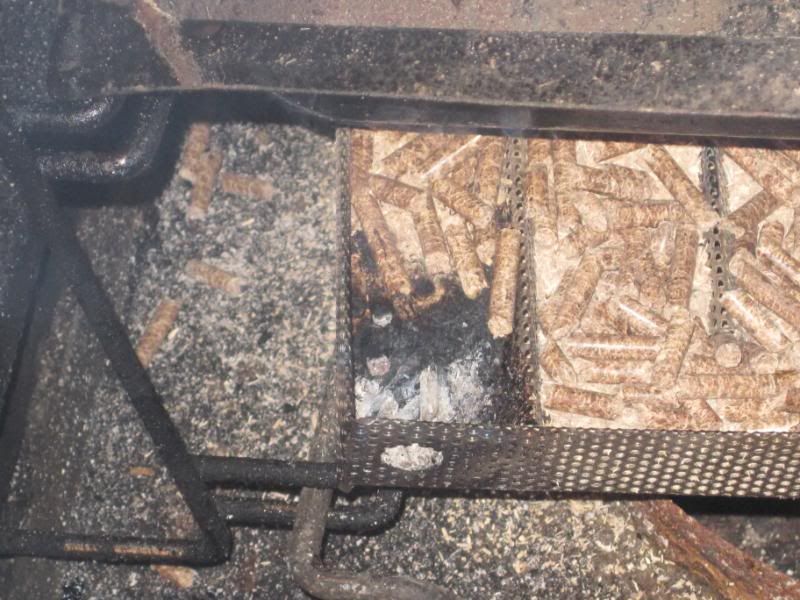 smokin
all hanging to dry overnight before smoking, think it was 85 lbs total. not alot but a nice variety. it is barely above freezing in garage. couldnt a had more ideal temps for this. the increased backfat in the bologna and wieners was def a step in the right direction.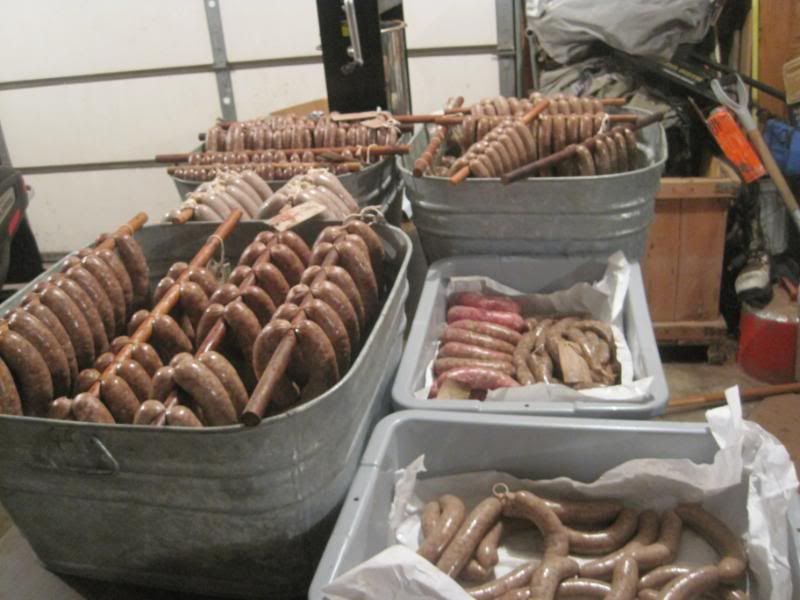 awesome product! thks for cking my pics!