I came across a recipe for this and just had to give it a whirl, cause Me loves me some Bourbon an sweet cherries!
Hickory Smoked Cherry & Bourbon Lemonade
2 quarts lemonade (fresh or from concentrate)
1 cup triple sec or orange curacao
2-3 cups bourbon (to taste)
1 cup smoked cherries
Pour over ice.
just smoke the cherrys till they start to shrivel and dry a little.. the bourbon will rehydrate em.
First off I got some nice sweet cherries washed and loaded them on a clean grate to put in the UDS.
 Sorry about the pics---cell phone#%@*!
I popped them into the drum at 9:45 pm after I smoked some beef and pork ribs...didnt want to waste the heat left in the drum!
I used cherry wood at 225* ...checked them at 10:30 pm and thought they were not quite shriviling yet so I left them in till 11:00pm.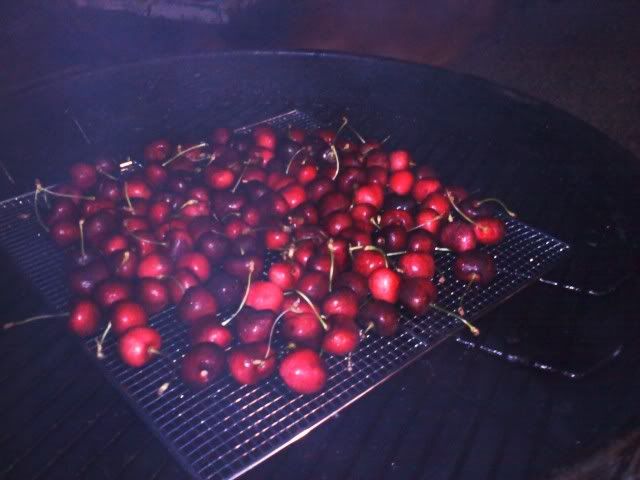 Here they are after the 1:15 mins bathing in wild cherry smoke! Sorry first pic here is pretty dark...whoa...and blurry!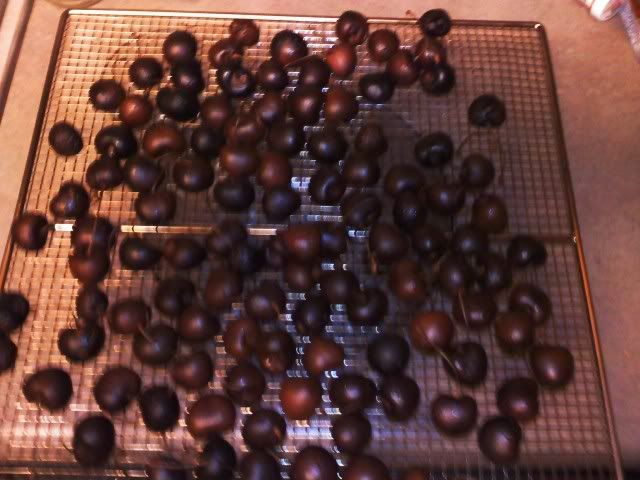 Ahhh thats getting better!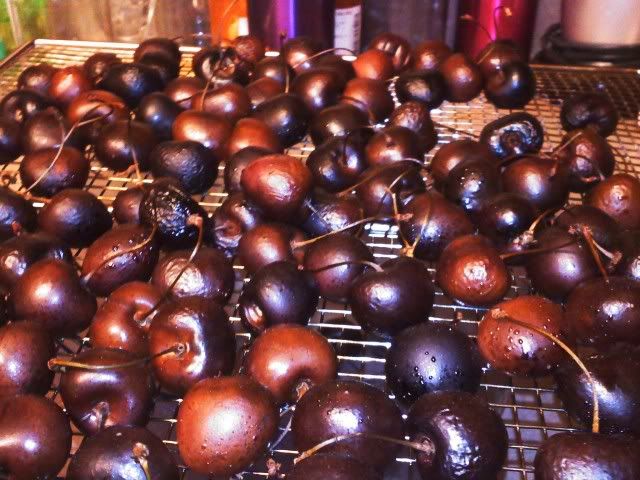 So I decided to modify the recipe a little...
instead of just soaking the cherries in the bourbon and triple sec I ran the 3 ingredients  through a food processor then strained to get the pits out. Worked pretty good.
I only had 1 cup of bourbon left (Woodfords Reserve--try it you wont be sorry!) so I used 1 cup of that and 1 cup of Triple Sec. It made a nice pulp like slurry that I think will go nicely in the lemonade. Hopefully it will flavor the drink more evenly. I am gonna let this set in the fridge overnight and pick up some simply lemonade from work tomarrow.  I think it will be an awesome drink at my nephews grad party saturday!
I'll let ya know how it turns out.
SOB
Oh ...and of course I snitched a couple of cherries before they were processed...pretty good flavor....Really Good Flavor with the alcohol mixed in!